Vegan Eggs Benedict Recipe
Vegan Brunch at Its Best: Eggs Benedict Reinvented
Bright flavors of classic eggs benedict go hand in hand with Spring holidays. For a dairy- and animal-free diet, finding a suitable recipe that lives up to the original is a struggle, but this is one of the best I've tasted. I'll admit, this recipe is a little more involved than the standard brunch fare, but that's what happens when you need to get creative in a vegan kitchen.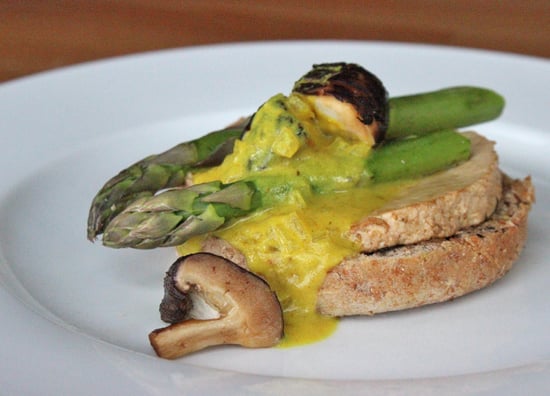 While there's no replacement for the texture and gooey center of a poached egg, this vegan benedict's lemony plant-milk-based hollandaise sauce surprised my taste buds with its depth of flavor and dreamy consistency. Even if you're not on a vegan plan, substituting this hollandaise for the classic egg-and-butter recipe dramatically lightens up the saturated fat and calorie count. Top everything off with two pieces of steamed asparagus, and you've got Spring on a plate.
Keep reading for this alternative brunch benedict recipe.

Ingredients
For marinated tofu:
1 16-oz. package firm tofu, drained and cut into 4 slabs
1 cup low-sodium vegetable broth
3 tablespoons olive oil, plus more for cooking
2 tablespoons white wine vinegar
4 teaspoons low-sodium soy sauce
1 tablespoon fresh tarragon, chopped
2 teaspoons Dijon mustard
1 teaspoon liquid smoke
1 teaspoon cornstarch
For "hollandaise":
1 1/2 teaspoons olive oil
1 shallot, finely minced
2 tablespoons dry white wine
1 teaspoon white wine vinegar
1 cup unsweetened soy or almond milk
1 1/2 teaspoon cornstarch
1/4 teaspoon ground turmeric
1/4 vegan bouillon cube
1 1/2 teaspoons lemon juice
Final touches:
2 tablespoons olive oil, divided
1/2 pound fresh morels or shiitake mushrooms, stems removed, heads quartered
2 English muffins, split in half and toasted (I used Food For Life)
12 spears steamed asparagus
Directions
To make the marinated tofu, cut tofu slabs into rounds with knife or large biscuit cutter. Combine broth, olive oil, white wine vinegar, soy sauce, tarragon, Dijon, liquid smoke, and cornstarch in glass baking dish. Add tofu to marinade, cover, and chill overnight.
To start the hollandaise sauce, heat oil in skillet over medium heat. Sauté shallot in oil 2 to 4 minutes, or until softened. Add white wine and vinegar, and bring to a boil, stirring frequently.
Whisk together soy milk, cornstarch, turmeric, and bouillon cube in a bowl, then slowly whisk soy milk mixture into shallot mixture. Cook 3 to 4 minutes, or until thickened. Whisk in lemon juice, and season with salt and pepper, if desired. Keep warm.
In a new skillet, heat one tablespoon of oil in a new skillet over medium heat. Add mushrooms; cook 5 to 7 minutes, or until most of liquid has evaporated. Season with salt and pepper, if desired. Remove and keep warm.
Wipe out skillet that cooked the mushrooms, and heat the remaining 1 tablespoon of oil in skillet over medium heat. Drain tofu circles, and sauté 3 to 4 minutes on each side, or until browned.
To serve, place one English muffin half in center of each plate. Top with tofu circle, mushrooms, and two or three asparagus spears. Drizzle each serving with two tablespoons of hollandaise.
Serves four.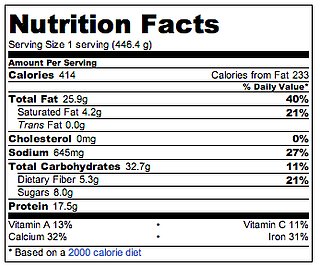 Information
Category

Breakfast/Brunch

Cuisine

North American