Vegan Jambalaya For Mardi Gras Recipe
Celebrate Mardi Gras With Vegan Jambalaya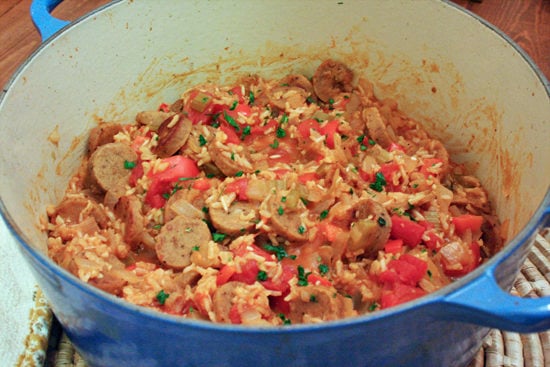 In honor of Mardi Gras, make a lighter (yet still flavor-packed) vegan version of the New Orleans favorite, jambalaya. The Cajun Trinity (and mirepoix variant), sautéed onion, bell pepper, and celery, along with the Creole seasoning give this dish a certified Southern flavor, while the rice, vegetables, and broth thicken to create a rich, creamy texture. This dish does require a few hours to prepare, but the payoff is worth the patience, and Cajun dishes are all about slow cooking and bringing people together. Serve the dish with sautéed collard greens and corn bread!
Check out the recipe here.
Vegan Jambalaya
By Anna Monette Roberts
Ingredients
4 tablespoons olive oil
1 medium onion, chopped
1 red bell pepper, chopped
2 celery stalks, chopped
2 teaspoons Tony Chachere's Original Creole Seasoning
4 cloves garlic, minced
1 can diced tomatoes
3 bay leaves
2 teaspoons vegan Worcestershire sauce, like Annie's Naturals Organic Vegan Worcestershire Sauce
1 teaspoon hot sauce, optional
3/4 cup brown rice
3 cups Imagine Organic No-Chicken Broth or vegetable stock
1 package (4 links) Field Roast Sausage (Smoked Apple Sage or Italian), sliced
1/2 bunch parsley leaves, minced
Tony Chachere's, hot sauce, and pepper to taste
Directions
In a cast-iron casserole dish or large saucepan, heat two tablespoons olive oil over medium-high heat, then add onion, red bell pepper, and celery. Don't stir and allow vegetables to brown and wilt, about three minutes. Once wilted and brown, stir once to allow vegetables to brown on other side. Add Tony Chachere's, garlic, tomatoes, bay leaves, Worcestershire, and hot sauce (optional). Stir in rice and broth. Cover, reduce heat to medium, and cook until rice is fully cooked, about 45 minutes. Stir occasionally and add more broth if necessary.
In a sauté pan, heat remaining two tablespoons of olive oil. Add sausage and cook until browned on both sides. Add to jambalaya pan and stir until well mixed.
Season jambalaya with Tony Chachere's, hot sauce, and pepper to taste; garnish with minced parsley.
Serves 6.

Source: Calorie Count
Information
Category

Rice, Main Dishes

Cuisine

Cajun/Creole