Vegan Wedding Menu Ideas
Staying Vegan on the Big Day: Wedding Menu Options
Even though wedding meals typically include bacon-wrapped scallops, filet mignon, and wedding cake smothered in buttercream frosting, you can still enjoy a delicious vegan menu if you, your partner, or your guests follow this animal-free diet. A little creative planning is all it takes, and since many venues, caterers, and bakers are being asked more about vegan options, chances are your venders will be able to accommodate your needs. When planning your own wedding, here are some tasty ideas for your vegan meal.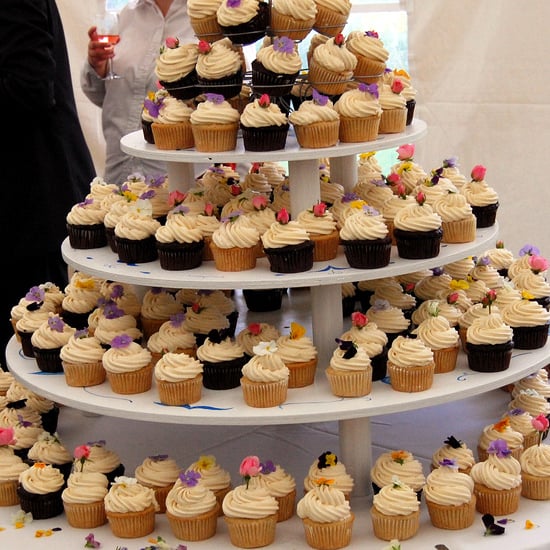 Cold Hors d'Oeuvres
Crispy sweet-potato pancakes topped with apple cinnamon chutney
Mini shot glasses of roasted red pepper hummus with carrot and celery sticks
Dates filled with soy cheese and wrapped in crispy portobello strips
Warm Hors d'Oeuvres
Tomato oregano risotto cakes topped with dairy-free pesto
Roasted veggie skewers with cardamom ginger dressing for dipping
Falafel balls with tzatziki sauce
Salads
Baby spinach with golden beets, candied walnuts, and raspberry vinaigrette
Mixed greens with ripe pears, edamame, sunflower seeds, and an avocado ginger dressing
Cucumber, tomato, and basil salad with cubes of baked tofu and balsamic vinaigrette
See vegan options for the main course, dessert, and brunch course after the break!
Main Course
Vegetable lasagna made with roasted eggplant, spinach, mushrooms, and zucchini
Marinated portobello mushroom stuffed with quinoa and asparagus
Butternut squash ravioli topped with cashew cream sauce and sliced almonds, served with broccolini
Dessert
Vegan wedding cake or cupcakes
A dessert table featuring bite-sized lemon cheesecakes (made with silken tofu), vegan fudge brownies, and vegan sugar cookies in the shape of the bride's and groom's initials
Plates of dairy-free chocolates on each table or a dark chocolate fountain complete with fresh fruit and vegan shortbread for dipping
Brunch
Belgian waffles topped with soy whipped cream and fresh fruit
French toast made with almond milk, bananas, and apple butter
An array of vegan baked goods including apricot almond scones, maple walnut muffins, and lemon tea bread
Source: Flickr User sleepyneko and Flickr User TheHungryDudes