Vegan Whipped Coconut Cream Strawberry Parfait With Biscotti
Vegan Valentine: Coconut Cream Strawberry Parfait With Almond Biscotti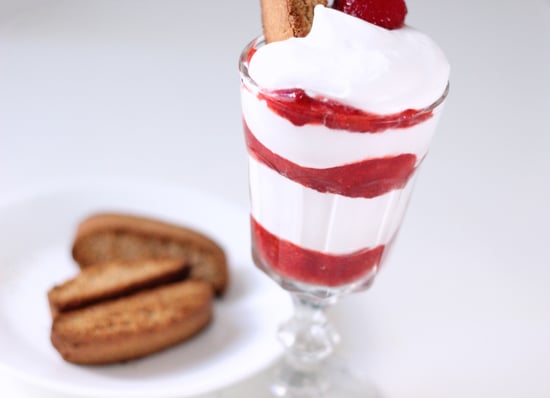 Ever since I started using whipped coconut cream as a pie topping, I've been obsessed. The nondairy dessert alternative, popular with vegans and Paleo dieters, is as delicious as traditional whipped cream, and its slight coconut flavor doesn't overpower the overall taste. Since it's so easy to make, I've been thinking of ways to use whipped coconut cream for more than just a topping. The result is this coconut cream strawberry parfait with almond biscotti, which would be an indulgent but light ending to any Valentine's Day dinner.
Read on for the recipe.
Notes
To make nondairy biscotti, substitute applesauce for the eggs. This results in a biscotti that is denser and smaller than traditional versions, but the flavor is the same!
Whipped coconut cream is a simple recipe that is popular among vegan cooks, but I like the techniques from Oh She Glows the best. She recommends that you gently turn a chilled coconut milk can upside down before opening so the separated liquid is easy to pour off, and to chill your mixing bowl for five minutes in the freezer before attempting to whip.
Ingredients
For the

biscotti

:
1/2 cup vegetable oil
3/4 cup unsweetened applesauce
1 cup sugar
1 tablespoon almond extract
3-1/4 cups whole wheat flour
1 tablespoon baking powder
For the parfait:
1 bag (1 pound) frozen unsweetened strawberries, thawed
1 can full-fat coconut cream, refrigerated overnight (I like Thai Kitchen Premium Organic Coconut Milk)
2 tablespoons powdered sugar or other sweetener, optional
1 teaspoon vanilla extract
Directions
Preheat the oven to 375 degrees. Grease cookie sheets or line with parchment paper.
In a medium bowl, beat together the oil, applesauce, sugar, and almond extract until well blended. In a separate bowl, combine the flour and baking powder, and then stir into the liquid mixture to form a heavy dough.
Divide dough into two pieces. Form each piece into a roll as long as your cookie sheet. Place roll onto the prepared cookie sheet, and press down to 1/2-inch thickness.
Bake for 25 to 30 minutes, until golden brown. Remove from the baking sheet to cool on a wire rack.
When the cookies are cool enough to handle, slice each 1 crosswise into 1/2-inch slices. Place the slices, cut-side up, back onto the baking sheet. Bake for an additional 6 to 10 minutes on each side. Cookie slices should be lightly toasted.
While the

biscotti

is finishing, prepare the strawberry sauce and whipped coconut cream. In a medium bowl, using a potato masher or fork, mash the berries and any juices into a chunky sauce, and set aside.
To make the whipped coconut cream, turn the chilled coconut milk can upside down, and pour off the clear liquid at the top until all that is left is the solidified cream. If the cream hasn't solidified, then pour off as much clear liquid as possible.
Transfer coconut cream to a mixing bowl and beat with a standing or hand mixer until it starts to whip. Add powdered sugar and vanilla, and whip again.
Spoon a bit of the strawberry sauce into the bottom of four serving bowls or glasses. Spoon coconut whipped cream in on top of the sauce. Repeat the layers using the remaining sauce and cream mixture. Top each parfait with a

biscotti

, and serve with extra

biscotti

on the side.
Makes 36 biscotti and 4 servings of parfait.
Per parfait serving: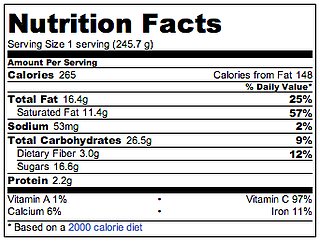 Per biscotti: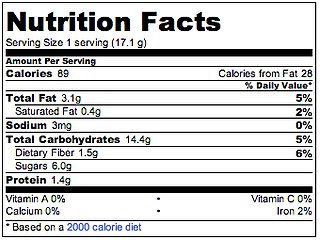 Information
Category

Desserts

Cuisine

North American