Vegan Wild Rice and Wheat Berry Salad
Vegan Wild Rice and Wheat Berry Salad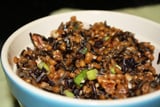 Ingredients
1 cup wheat berries
1/2 cup wild rice
3 tbsp of maple syrup
3 tbsp of lemon juice
1/2 tsp of dijon mustard
1 tbsp soy sauce
1 tsp kosher salt
dash of black pepper
1/2 to 1 cup of pecans, toasted
4 scallions, diced
1 cup of currants
Directions
Cover the wheat berries with cold water and soak them overnight.
The next morning, drain them. Bring 2 cups of salted water to a boil, add in the wheat berries, turn the heat down and let them simmer for 45 minutes to an hour or until soft. (If you didn't soak them just cook them longer.) Drain and set aside.
In another pot bring 2 cups of water to a boil and add the wild rice. Turn down the heat and simmer the rice for about 30 minutes. Drain and set aside.
Now make the sauce. In a small bowl mix together the maple syrup, lemon juice, dijon mustard, soy sauce, kosher salt and pepper.
In a large serving bowl add the wheat berries and wild rice. Pour the sauce over. Add the pecans, scallions and currants and stir around. Let this sit for at least 30 minutes so the flavor soaks in and serve.
Information
Category

Side Dishes, Grains

Cuisine

North American