Vegetarian Cuban Rice and Beans Recipe
One-Pot Vegetarian Dinner: Cuban Rice and Beans
Craving a comforting vegetarian dinner? Try this healthier version healthier version of the Cuban staple rice and beans from POPSUGAR user Dara8182.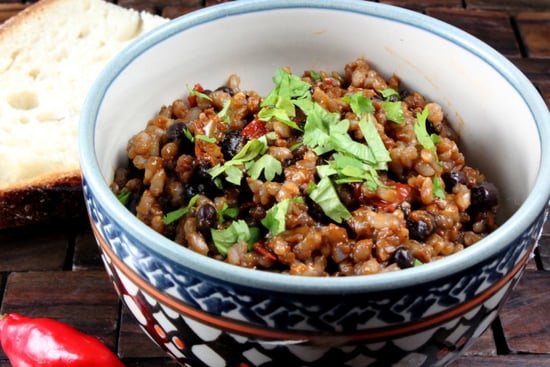 Everyone loves rice and beans; it is an ultimate comfort food. Less comforting, is that it's usually packed with calories and salt, not to mention the fact that the traditional Cuban preparation requires you use a ham hock for flavoring. I decided to create a healthier version, using brown rice and simple flavorings to keep the spirit of the Cuban dish while making a healthy and filling dinner.
Ingredients
3/4 cup brown rice, dry
2/3 cup dry black beans, soaked (or one 15 oz. can)
1 medium yellow onion, diced
2 cloves of garlic, minced
1 bell pepper, seeded and diced
1 jalapeño pepper, seeded and diced
1 teaspoon chili powder
2 tablespoons tomato paste
1 tablespoon red wine vinegar
4 cups low sodium vegetable stock
1 tablespoon extra virgin olive oil
2 tablespoons fresh cilantro, plus more for garnish
Find the full recipe at Dara8182's blog, Gen Y Foodie.