Venus Williams Teaching Tennis at Legends II Clinic on August 26
Venus Williams Will Teach You About the Game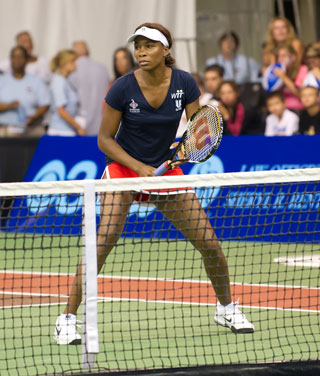 Aside from being ranked number four in the world of women's tennis, designing her own fabulous tennis dresses, and collaborating on some recent designs with Ralph Lauren, Venus Williams wants to help us all improve our game. The busy tennis star took some time out of her schedule and sat down with me recently to discuss a wide range of topics from fitness to fashion, from keeping her courtly design clean with Tide plus Febreze Freshness Sport, to her upcoming tennis clinic.
Tomorrow, Aug. 26 at 2 p.m. EST, Venus will be offering tennis tips, complete with demonstrations, as part of the Legends Clinic II. Because we live in a high-tech world, the event will be streaming live on the Ralph Lauren website. The longtime pro will be covering tips for players of all levels. She explained the outline of the event like this: "For beginners you really talk about the basics. Preparation and the correct grip. Intermediate how to control ball. How to put the ball where you want to make the point. Advanced level talk more about strategy. How to play that game and make the plays. Lots of different people to reach and lots of different things to cover." I know my backhand grip has become a bit rusty, so I will definitely be tuning in.
Stay tuned for more of my interview with Venus and learn her fashion inspirations and her go-to cardio.