Video Demonstration of Slackline Yoga
Class Act: Slackline Yoga
Yoga isn't just for the mat anymore. Nowadays, people do yoga moves while cradled in a ribbon or hanging from the ceiling, in between hiking hills, and while balancing on a paddle board. Need another yoga trend to try? Slackline Yoga involves doing yoga poses on a tensioned rope or slackline. Talk about challenging our sense of balance.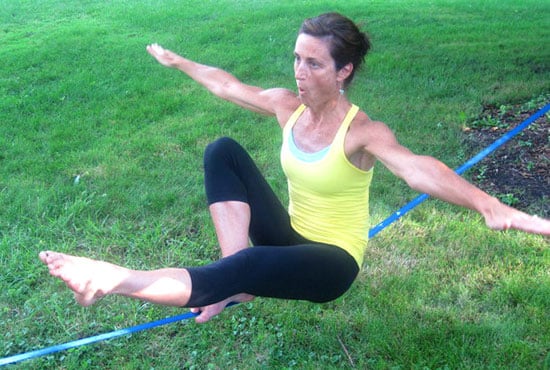 I had the opportunity to try this type of yoga at a demonstration over the weekend. To find out what I thought, read more.
It won't surprise you to find out that Slackline Yoga is insanely difficult. All I can say is I'm glad the rope was set up about a foot off the ground, because I spent more time on the grass than on the line. When I first heard of this type of yoga, I thought it was just another name for tightrope walking, and not related to yoga at all. Boy was I wrong. Doing yoga on a slackline requires the same focus, attention to breath, body awareness, balance, and core strength as doing yoga on a nonmoving mat. After a while, I found that I could stand on the slackline on one leg without falling, and the thought of trying to balance in other positions was so exciting. I was addicted immediately and will be sure to take a real class soon.
To learn more about Slackline Yoga, check out the video below from Yogaslackers:
Source: Flickr User lululemon athletica