Virtual Active Video Treadmill Is Cool!
I have never been one to watch TV while working out. I use exercise to escape my reality, not read the ticker on CNN. When the guys at Virtual Active asked me if I wanted to take a virtual hike through Lake Tahoe on their Matrix treadmill, however, I said yes without hesitation. Lucky for me the fitness video start-up's office is two blocks from Sugar HQ.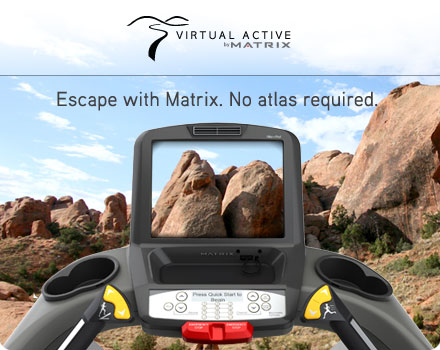 Virtual Active makes high definition videos of popular tourist spots in the US, from the canyons of southern Utah to the urban canyons of downtown Chicago. These hyper-real videos of virtual runs and hikes play on the video screens now found on many pieces of high-end cardio equipment. Through some fancy programing, the video speeds up as you increase your running speed, helping to fulfill the illusion that you're actually moving in the great outdoors. Even cooler, when you approach a hill, the incline on the treadmill, whether you're running or walking, automatically changes to match what is on the screen. You can even set the machine up to give you reading points, brief facts and tidbits of history, about your running environs.
To experience these videos and learn what is on the horizon for VA, continue reading.
Virtual Active will be unveiling its first-person treadmill experience at the IHRSA — the big fitness trade show happening in San Diego later this week. But this little company has large plans in the works, including interactive training videos. You can run with a virtual trainer, in video form, and be coached through intervals. And, you guessed it: the treadmill will automatically speed up for your sprint along with the video image and slow down when you hit your rest period. If you can't run with a real trainer, this is a great motivational tool because you get both coaching and interesting visuals to motivate you. VA will be expanding its video library as well, adding international destinations for you to run and hike through.
Look for this video system at upscale gyms soon — the Matrix treadmill isn't cheap (no doubt my local YMCA won't be featuring this gear anytime soon). If you're looking for a nature running video, the Blu-ray DVDs produced by Virtual Active will soon be for sale at a decent price point for home use.
Check out this video clip to get a feel for VA's virtual runs.