The Voice Workout Playlist
Sweat It Out With Tunes From the Stars of The Voice!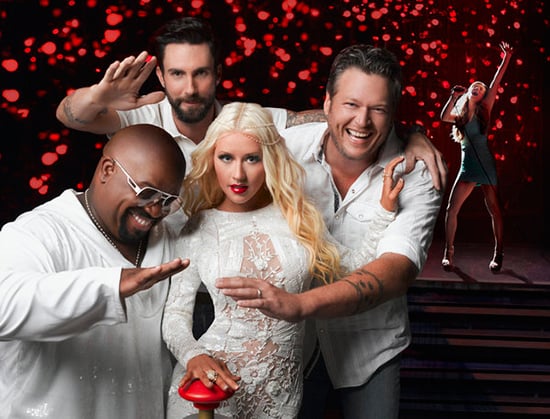 I'm hooked on this cycle of The Voice; it's so great to see the original gang of judges back together doing their thing — especially with a confident Christina looking so healthy, fierce, and fabulous! If you share my sentiment, you'll love this eclectic mix of tunes from all four judges' repertoires that make me want to move. There are some older tunes, some brand new tracks, and even some artist collaborations, but they're all guaranteed to keep you motivated during your next workout. Subscribe to the Spotify playlist, then keep reading for the full list of songs.
"Make the World Move" — Christina Aguilera, CeeLo Green
"Moves Like Jagger" — Maroon 5, Christina Aguilera
"Forget You" — CeeLo Green
"Boys 'Round Here" — Blake Shelton, Pistol Annies
"Cry Baby" — CeeLo Green
"Red Hot Kinda Love" — Christina Aguilera
"Harder to Breathe" — Maroon 5
"Gone Daddy Gone / I Just Want to Love You" — Gnarls Barkley
"If I Never See Your Face Again" — Maroon 5, Rihanna
"Kiss My Country Ass" — Blake Shelton
"The Beautiful People" — Christina Aguilera
"Run [I'm a Natural Disaster]" — Gnarls Barkley
"Love Somebody" — Maroon 5


If this mix isn't your style, check out all our workout playlists here to find something that suits your taste.
Remember, you will need to download the free Spotify software or app to listen to our playlists.