Vote in FitSugar's Fittest Female Celeb 2011 Bracket
Vote in Our Fittest Female Celeb Bracket!
It's the battle of the reality show judges — Project Runway's running fan Heidi Klum and American Idol's dancing queen Jennifer Lopez are competing against each other for the title of Fittest Female Celeb of the Year.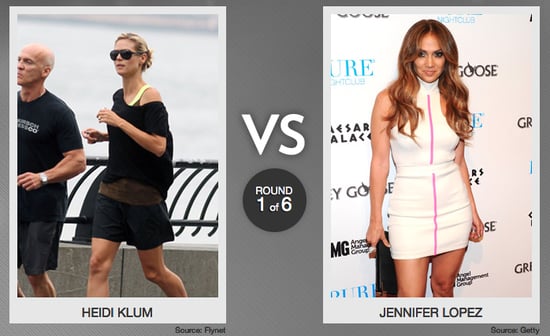 Heidi and J Lo, however, aren't the only celebs who love fitness. The competition is fierce, so we need your help! We've rounded up 64 female celebs in tip-top shape and want you to pick the fittest of them all. To play, head on over to our Fittest Female Celeb of 2011 bracket to cast your vote. Go through the first-round matchups by picking who you think deserves the fittest female of 2011 title. Once you've finished the first round, we'll take your favorites and pair them against each other until there is only one winning celeb left. Play the game here.