Waist Circumference More Important For Measuring Health Than BMI
A Big Waist Means Big Health Troubles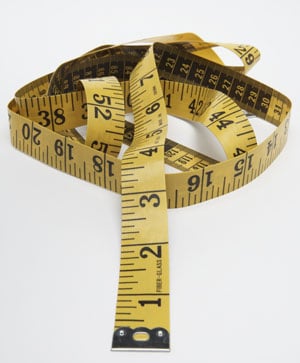 When it comes to measuring your overall health, a simple measuring tape proves to be a more important tool than the scale. While neck circumference is gaining popularity as a new way to gauge a person's health and fitness level, a new study sponsored by the American Cancer Society again confirms waist size is the leading indicator for health risk beating out body mass index (BMI), the standard measurement for obesity. Excessive abdominal fat increases your risk for a wide variety of chronic and deadly health problems, including respiratory illness, heart disease, and cancer.
The new study, published in the Archives of Internal Medicine, found that folks with large waists have a greater risk of death than others with normal waist measurements — nearly double — even when those with a large waist circumference have a normal BMI. The upper end of healthy waist measurements is 40 inches for men and 35 inches for women. The study followed 100,000 subject for 10 years and found that even with a normal BMI, four extra inches around the waist increased the risk of dying from between 15 percent to 25 percent.
American's middles have been steadily growing, with the average waistline increasing around one inch every 10 years since the 1960s. Grab a measuring tape and check your health. Use our hip-to-waist ratio calculator to assess your risk level.