Walk to School Stroller Workout
Back in Shape: Walk to School Stroller Workout!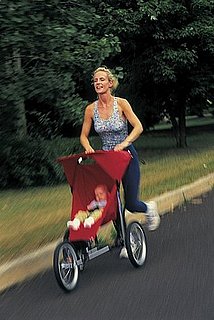 The morning school run is a mad dash for mama! Throwing a workout in the mix helps her burn calories and the kids get to class on time. Our friends over at Equinox set me up with Amy Fiske, an NSCA-certified personal trainer, who is helping me get back in shape. Here is the routine she recommends for the walk to school.
Warm up: Start with a slow walk and work into a brisk walk for a light workout (5 to 10 minutes).
Main: Walk briskly or jog for 1 to 2 minutes, 1 to 2 blocks (or judge by landmarks like 3 light posts). Then slow down for 1 to 2 minutes or 1 to 2 blocks. Then repeat the rotation. This part of the workout should be physically challenging and make it hard to hold a conversation.
Cool down: Wind down your jog or brisk walk into a slow walk for a light workout (5 to 10 minutes).
Once you feel comfortable, try increasing the workout's intensity by:
Adding a sprint finish in the last leg to make it to school before the bell
Wear your child's backpack to add more weight and increase resistance
On the way home, add in some hill work. Pick a challenging hill and walk briskly up it and then slowly walk down it. Then, repeat. You can start with one repetition and build up depending on your fitness level.
If you are postpartum get your doctor's clearance before exercising. If you are "out of shape", take things at your own pace and build up your endurance slowly. Rest when necessary so you don't feel winded. Make sure to warm up for at least 5 to 10 minutes before you physically challenge yourself. Your cardio session can be 15 to 30 minutes depending on your commute to school! If you are pushing a stroller, keep good posture by lifting the chest and not rounding the shoulders. Make sure you spend time stretching at the end of your workout to prevent muscle soreness and injury.
Check out the rest of our Back in Shape series and enter a Mountain Buggy Terrain stroller!