Wanderlust Founders Interview
Wanderlust Dudes Dish on Their Festival and Active Lives
If you've ever wondered how one of these big music festivals manages to come together, there's no one better to ask than Jeff Krasno and Sean Hoess, the men behind the Wanderlust Festival. Four years after the first event in Squaw Valley. Wanderlust has succeeded in reshaping the festival landscape as we know it.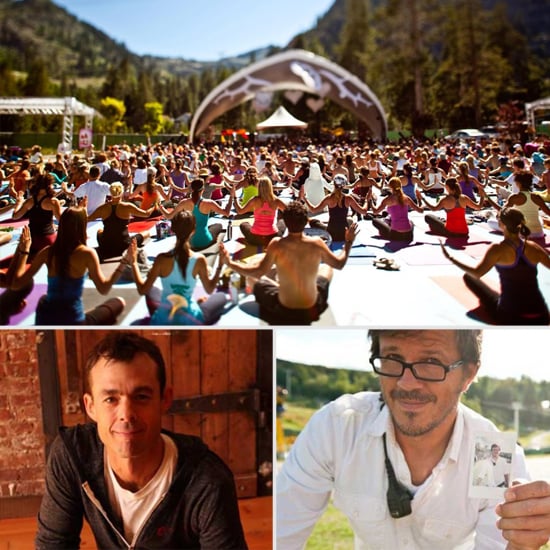 Jeff and Sean first met at Columbia University in NYC as bandmates. Years later, after opening a music artist management company under the yoga studio where Schuyler Grant — Jeff's future wife! — was teaching, the three realized that yoga and music crowds had a lot in common. Thus came the idea for Wanderlust, a yoga and music retreat where the two concepts are melded together for, as Sean said, "the adventure-minded crowd who want stuff you can't get at your local yoga studio."
To learn more about how the festival got its name and how the men choose to stay active, just keep reading.
Just like the organic combination of yoga and music in one environment, coming up with the name Wanderlust was an equally organic process. Sean comically explained that, despite all of the projects he and Jeff had worked on in the past, "they never agreed on any name but this one." Jeff explained that the name Wanderlust "flew into [his] brain, and [he] wasn't sure what it meant." After recognizing that it really referred to a quest for "spiritual travel and search to know one's self," they knew it was exactly what they were looking for.
Somewhat surprisingly, neither of the men are particularly involved in the yoga at the festival! They call upon Schuyler as their yoga "muse," but each men enjoy participating in different ways. Tennis is Sean's personal sporting passion, and he admitted to having a "very beginning [yoga] practice." Jeff told me that he's developed his own style of yoga called "joga," which he equates to "Pranayama running."
And as for all the other big festivals popping up with a conscious component, Jeff has a simple response to the competition: "We just work harder."