Warm Lentil Salad With Goat Cheese by Martha Rose Shulman's The Very Best of Recipes For Health
Warm Lentil Salad With Goat Cheese
For me, September doesn't only mean back-to-school time; it's also back-to-cooking time. For dinner inspiration I am loving Martha Rose Shulman's new cookbook, The Very Best of Recipes For Health. Don't let the word "health" in the title fool you; her recipes are big on flavor and easy to make.
For the FitSugar Give It Up Challenge, I am living without meat for two weeks, which means I am eating beans for protein. Lentils are not only high in protein, but this legume packs a lot fiber into its little form. This salad is so easy to prepare, and my girls like it too — double bonus!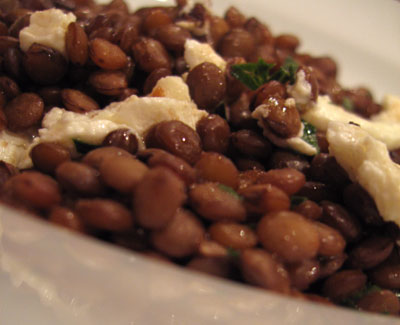 Check out the recipe when you read more.
Warm Lentil Salad With Goat Cheese
Ingredients
For the salad:
1 pound (about 2 1⁄4 cups) French green or beluga lentils, rinsed and picked over
1 medium onion, halved
2 large garlic cloves, smashed but left whole
1 bay leaf
Salt
For the dressing:
1⁄4 cup sherry vinegar or red wine vinegar
1 garlic clove, minced
2 teaspoons Dijon mustard
1⁄4 cup extra virgin olive oil
Salt and ground black pepper
1⁄4 cup minced flat-leaf parsley, or a mixture of parsley and chives
1 log (4 or 5 ounces) fresh goat cheese, cut into rounds
Directions
To make the salad: Combine the lentils, onion, garlic, and bay leaf in a large saucepan or soup pot. Add enough water to cover by 1 1⁄2 inches. Bring to a simmer, add 3⁄4 teaspoon salt, cover, and continue to simmer for 30 minutes, or until the lentils are tender all the way through but still intact. Set a sieve over a bowl and drain the lentils. Discard the onion, bay leaf, and garlic. Return the liquid to the pot and bring to a boil. Cook for 10 to 15 minutes, or until reduced to 1⁄2 cup. Taste and adjust the seasoning with salt.
Preheat the oven to 350ºF.
To make the dressing: Whisk together the vinegar, garlic, mustard, oil, and reduced cooking liquid from the lentils. Season to taste with salt and black pepper. Stir in the parsley or parsley and chives and toss with the lentils.
Place the lentils in a baking dish and top with the rounds of goat cheese. Heat through for 15 minutes, or until the goat cheese has softened, and serve.
Makes 4 to 6 main-course servings, 8 side-dish servings
Nutritional information per serving (based on 4 servings):
585 calories, 29 g protein, 66 g carbohydrates, 16 g fiber, 25 g fat, 8 g sat fat, 22 mg cholesterol, 294 mg sodium
ADVANCE PREPARATION: The lentils can be made and tossed with the dressing up to 3 days ahead. Do not add the parsley until just before warming the salad. Warm the mixture on top of the stove, stir in the parsley, then top with the goat cheese and warm in the oven as directed.
Information
Category

Appetizers

Cuisine

Mediterranean/Middle Eastern
Try eating meat-free for 14 days with me and join our Give It Up Challenge. Find and share your healthy recipes in the Healthy Recipe Group.