Warmer Indoor Temperature and Obesity
Is Central Heat Making Us Fat?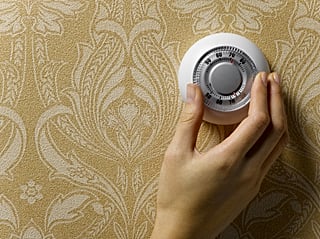 Winter weight gain can happen to the best of us, but new research out of England says that turning up the heat indoors can lead to weight gain. Apparently, temperatures in the low 60s, while still comfortable, causes a substance in our bodies called brown fat to burn, generating heat and burning calories.
Research was conducted by a team of professionals including health psychologists, biologists, and indoor-environment specialists. Apparently, since central heat became popular in the 1960s, indoor temperatures in both the US and the UK have gotten warmer; at the same time obesity rates have been climbing as well. Additionally, researchers found that due to the efficiency of modern heating systems, most people heat their entire house to one temperature, whereas in the past the bedrooms tended to be slightly colder.
Not being exposed to the cold, researchers say, means our bodies don't produce enough of this brown fat, which in turn is unable to burn calories. They also maintain that cold exposure or non-exposure is not a major contributing factor to obesity; exercise and food consumption still take top honors in that category. But at least one medical professional does maintain that lowering the temperature indoors may have a weight-reduction effect over time.
Next time you're feeling chilly, don't reach for the thermostat. Do some push-ups instead!