Watermelon With Honey, Mint, and Lime Recipe
Phytonutrient-Packed Watermelon With Honey-Lime Mint Syrup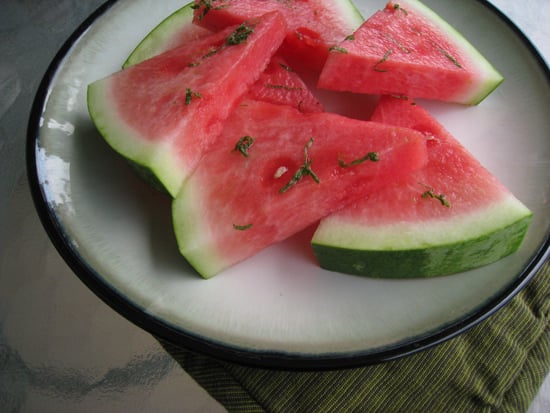 It's common knowledge to eat macronutrients like protein, fat, and carbohydrates, but many people skimp out on micronutrients, especially those that come from plants. Phytonutrients, or "plant-based" nutrients, consist of fruits and vegetables that make up the colors of the rainbow. By eating a variety of colors, you are providing your body with antioxidants and other nutrients that protect your body from disease and degeneration.
Lycopene, the phytonutrient that gives fruits and vegetables a red pigment, is part of the carotenoid family. You can easily obtain a high dosage of lycopene by eating watermelon. Lycopene acts as an antioxidant, and daily consumption may reduce risks of heart disease, cancer, and diabetes. Boost the flavor of the watermelon by tossing it in a honey-lime mint sauce.
See the watermelon recipe after the break!
Watermelon With Honey-Lime Mint Syrup
Original Recipe
Ingredients
1 small watermelon, cut in 1-inch slices
1 lime, juice and zest
1/4 cup honey
2 tablespoons of mint, chiffonade
Directions
Whisk lime zest, lime juice, and honey together. Add more honey to taste, if needed. Delicately stir in mint.
Toss watermelon slices in syrup.
Information
Category

Snacks