Watermelon Strawberry Mint Popsicles
Healthy Dessert: Watermelon Strawberry Mint Popsicles
If Summer heat and humidity has you craving something cold and delicious, then reaching for a pint and a spoon could be the reason your waistline is expanding. These low-calorie watermelon strawberry mint popsicles are sweet, refreshing, and, with only three ingredients, a cinch to make.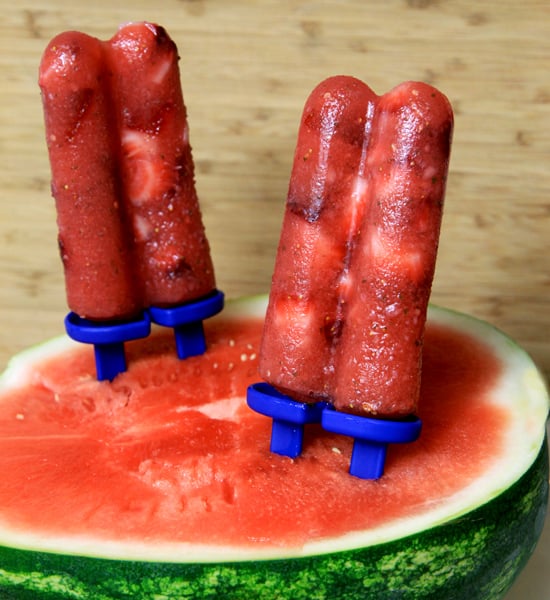 You'll need a couple of BPA-free popsicle molds. I'm a fan of ones made by Tovolo because the brand has tons of fun designs including standard bar-like popsicles, twin pops (seen here), rocket pops, and star pops. They're about $12, so you can afford to buy a few and experiment with different recipes.
Watermelon Strawberry Mint Popsicles
original recipe
Ingredients
4 cups of cubed seedless watermelon (about half a medium melon)
12 fresh mint leaves
10 large strawberries (leave four whole and cut the rest into bite-size chunks)
Directions
Blend watermelon, mint leaves, and four whole strawberries in a food processor or blender until smooth.

Put a few chunks of strawberries in the bottom of each popsicle mold. Fill halfway with watermelon mixture and then add a few more strawberries to each mold. Fill almost to the top with the mixture and place the sticks on top.

Freeze for at least three hours and enjoy!
Makes about eight popsicles.
Information
Category

Desserts, Frozen

Cuisine

North American
Source: Calorie Count