Ways to Combine Different Workouts
Creative Ways to Double Up Your Weekend Workout
Cut the time it takes to work out by squeezing more into your session by combining cardio and strength training into one. There are tons of fun ways to double up on your exercise regimen, and here are five to get you started!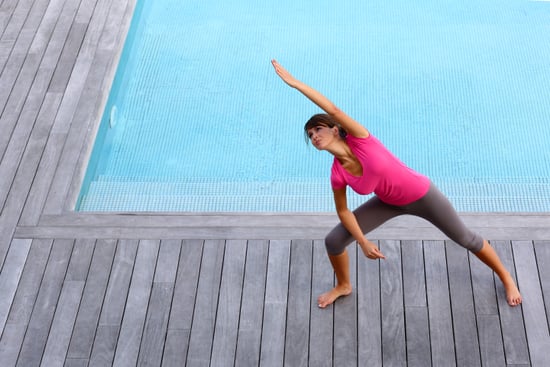 Run first, om later: Take a run and then head to yoga, or reverse the order. Yoga can balance your mind and tone your body, but it doesn't always provide the cardio that we need. If your studio is close to where you live, even better. You can run there to get your heart rate up right before class.
Sweat from the bike straight into the pool: If you have a gym membership, there are many amenities open to you. You can spin at the gym and then swim in the pool after class. Not only will these different forms of exercise complement one another, but the refreshing pool will also feel great after sweating it out on a bike.
Dance off the flab before you tone your abs: Zumba is a fun way to squeeze in low-impact cardio. Top your session off by hitting the weights for 20 minutes; your energy will be at an all-time high right after dancing, so use the momentum to your advantage by lifting some weights with ab work.
See more great workout ideas after the break!
Run into a lunge: If you're used to jumping stairs or running outdoors, take advantage of the open air. Lunges and squats can be a great "break" from running. If you really want a challenge, don't be afraid to throw push-ups into the mix as well. It might be difficult to bring handheld weights, so use your own body weight for fast blasters like planks or even burpees, if you're hardcore.
Pop in a DVD and ride the good vibes into work: For a more time-friendly option, work out at home. Find an exercise video or series that you like and set aside a chunk of time during the day. You can do it in the comfort of your living room without calculating the transportation time. Then, bike to work, brunch, or wherever it is you need to go. Not only is this killing two birds with one stone, but you'll also be in a great mood once you get there. If you don't have a bike or deal with a further commute, take the long route to walk there from your car or public transportation.