Ways to Cook With Ice Trays
Ice, Ice Baby: Creative and Healthy Ways to Use Your Ice Tray in the Kitchen
Eating healthy is no easy feat — it usually requires a little more time in both planning and preparation. But did you know that a simple ice tray can make healthy living a breeze? From smarter snacking to a good-for-you breakfast, keep reading for creative and healthy ways to use your everyday ice tray.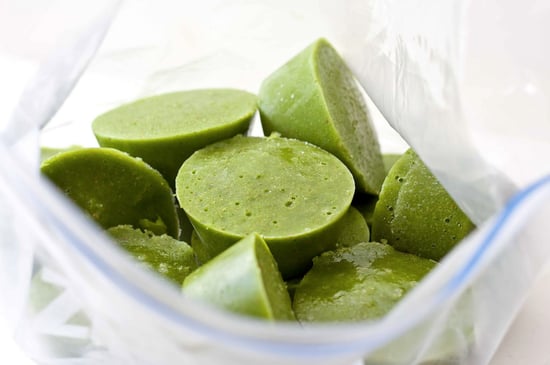 Smoothies
A smoothie makes a healthy on-the-go breakfast, but sometimes life is so hectic, there isn't even time to turn the blender on. Save yourself a daily mess by freezing a batch of your favorite smoothie to use at a later date. When you're ready to enjoy, let cubes defrost in a cup overnight and grab it on your way out the next day. We're loving this recipe for make-ahead coconut green smoothie cups. You can also save time by freezing yogurt in ice trays and portioning those cubes into baggies with frozen fruit — just dump the contents into the blender whenever you're in the mood for a smoothie.
Homemade Healthy Treats
Skip sugary store-bought popsicles and ice-cream treats and make your own at home. When using fresh fruit, like in this recipe for homemade berry-banana popsicles, you don't even need to add sugar. Add a little protein (and good bacteria mix) by using Greek yogurt, like in our recipe for Summer berry and yogurt ice-tray pops.
See more creative and healthy ways to use ice trays after the break!
Soups, stocks, and sauces
Sometimes when you're cooking, a dish calls for an extra little zing that only a hit of stock or special sauce can provide. The next time you make a big pot of marinara, pesto sauce, or chicken stock, freeze some of it in an ice tray. Instead of having to rely on sodium-laden bouillon cubes or tomato paste, you can use one of these flavorful cubes to spice up a dish.
Herbs
Using fresh herbs means not having to rely on as much salt or sugar in recipes; it's also a great way to up the levels of antioxidants in any meal. If you garden or buy fresh herbs at the store, you've probably seen your share of wilted batches. Use an ice tray to preserve fresh herbs before they totally die off: simply pack the herbs into each cube and top off with a little water. Next time you're cooking up a curry, sauce, or soup, just pop one of those cubes right into the pot!