Ways to Cut Back on Cocktail Calories
Two Simple Tips to Save Hundreds of Calories on One Cocktail
There's nothing wrong with the occasional cocktail, but if you're watching your waistline, the wrong drink order can be detrimental to maintaining a healthy weight. Avoid making happy hour a sugar and fat festival with these two easy tips — in the end, you'll have saved yourself almost 300 calories!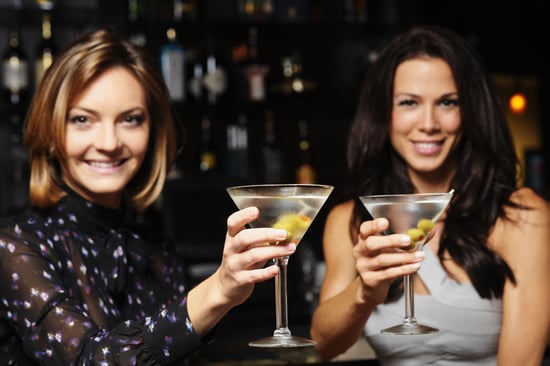 Start with the right alcohol: When it comes to saving calories, stick to basic alcohol (vodka, gin, tequila, or whiskey) and avoid liqueurs since flavored spirits like Kahlua, Baileys, or Amaretto are made using additional ingredients like fruit, cream, and sugar. For comparison, a 1.5-ounce pour of vodka contains 100 calories and zero grams of sugar, compared to 147 calories and nine grams of sugar in the same amount of Baileys. When asked by the bartender, always choose a cosmopolitan over a mudslide! To save even more calories, have your cocktail made with sake, shochu, or soju; on average, these spirits run about 60 calories per 1.5-ounce pour.
Mixers matter: Always go easy on the mixers. Order your spirit of choice neat or on the rocks, or opt for a zero-calorie mixer like soda water. If a cocktail without fruit juice seems a bit too much for you, ask the bartender to add just a splash. Most importantly, avoid premade mixes since they are dripping in corn syrup and additives. When made right (aka without a mix), classic cocktails like mojitos and margaritas contain under 200 calories!