Ways to Eat Celery
4 Ways to Make Celery Your (Most Exciting) BFF
Poor celery . . . unlike other veggies, this crispy, crunchy veggie often gets categorized as diet fare and dismissed as being dull. But, before you nod your head in agreement, think again. Celery is actually a satisfying vegetable, and it's loaded with fiber and other health benefits like vitamins A, C, and K, as well as folate and potassium. Let's not forget that one large stalk contains just 10 calories, offering extreme crunch for practically nothing! If you still aren't convinced to eat this veggie plain, we have several options where celery's boring connotations can forever be forgotten!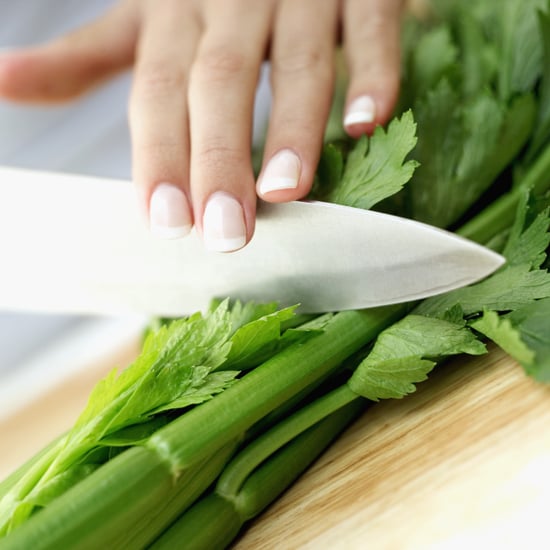 Enjoy with dips: It's hard to resist the crunchy combination of chips and dip. A snack that can easily add up in calories, it can offer similar satisfaction if you substitute celery for chips. Celery tastes great dipped into homemade dips, salsa, or hummus. For a punch of protein, don't forget about the classic peanut butter treat ants on a log!
Crunch factor: Salad toppings are often where diets go awry. If you like a salad rich in toppings but not in fat, then substitute nuts or fried toppings with chopped celery. The classic Waldorf salad and this Parmesan salad showcase celery as anything but bland. Add celery in tacos and sandwiches for an added crunch without the added calories.
Sweet sip: You probably don't think to sip your stalk, but celery adds fiber and nutrition to your morning juice or smoothie. Along with other veggies, the glowing green smoothie uses four stalks of celery for a detox drink or post-workout fuel. For a less serious sip, celery and healthy Bloody Marys go hand in hand.
Dinner dish: Often considered a snack, celery can be added to your favorite dish for more fiber and crunch at dinnertime. Because of its neutral taste, celery is often great in hearty dishes, like a stir-fry or a stew, and lighter plates like a tuna sandwich or salad.