Ways to Eat Ginger
6 Tasty Ways to Get Your Ginger On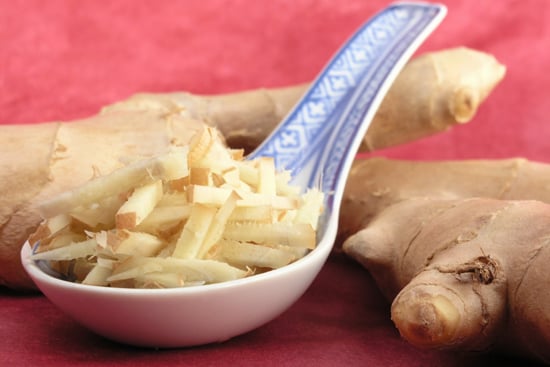 Antioxidant, anti-inflammatory, antinausea, and immune-boosting, ginger root has a remarkable bounty of benefits. Ginger has been used for healing and therapeutic purposes since ancient times, and lucky for us, the flavor is also incredibly tasty when you get the balance right. If the concept of getting a dose of this root feels a little enigmatic to you, then keep reading for six tasty ways to get your ginger on right now.
Bake it: Gingerbread houses may be synonymous with the yuletide spirit, but the crunch and spice of these lightened-up gingerbread cookies are always in season. While there's no need to overload on a whole plate of these puppies, they're one yummy sweet treat.
Pickle it: Love the pickled ginger that comes on the side at your favorite sushi spot? Make it in the comfort of your own kitchen. Pickled ginger is a healthy addition to homemade sushi, but it is also incredibly tasty on salad, with stir-fry, and in a meat marinade.
Brew it: An ideal natural remedy to clear up congestion or the onset of a sore throat is fresh ginger tea. An upset belly can also really benefit from some gingerly love.
Keep reading for three more ways to get ginger in your diet.
Cocktail (or mocktail) with it: YumSugar's refreshing low-cal ginger fizz cocktail recipe combines vodka and simple syrup that has been infused with fresh ginger root. But if you're currently laying off the booze, then consider making a pretty glass of homemade ginger ale that's simple to construct.
Top your salad: Ginger dressing is a staple of some of our favorite Asian-inspired recipes like this salmon salad, but a perfect recipe for summer comes in the form of these bright and beautiful veggie chard wraps with a spicy lime-ginger dipping sauce.
Blend it: For a little detox in your smoothie, consider blending in some fresh ginger. If you're in need of some inspiration for complementary fruit flavors, then try this detoxifying orange-ginger smoothie.
What's your favorite way to enjoy ginger? Share below!