Ways to Help Your Muscles Recover Fast After a Workout
Two Feel-Good Ways to Quicken Postworkout Muscle Repair
You know the feeling: sore muscles after your workout. If you want to feel better fast, help speed the process along by doing these two things soon after your workout.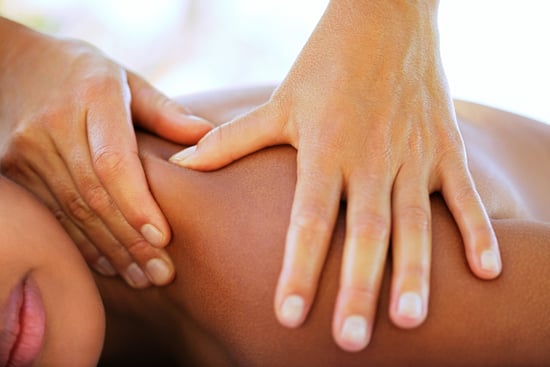 Feed them right: Eating or drinking protein soon after your workout will help repair spent muscles. The best postworkout foods are a mix of protein and carbs for energy and repair (a ratio of 4:1 carbs to protein, since carbs help replenish energy stores), so grab a yogurt or drink a chocolate milk. Want to quicken the process even more? Try a turmeric tea: the spice has anti-inflammatory properties that help accelerate muscle repair.
Get a massage: Who needs an excuse to get a massage? Sports massages feel oh-so-relieving, and there's good reason why. A new study found that getting a sports massage right after a workout decreases inflammation and boosts your muscles' oxygen intake, which helps your muscles rebuild and repair. Since it's not exactly possible to book a sports massage after every workout, make sure you keep up with your postworkout stretching and foam-rolling routine.
Whether you're easing pain right after a workout or later, find more tips for dealing with postworkout muscle soreness here.