Ways to Lose Holiday Weight Gain
Ways to Ramp Up Workouts For Holiday Indulging
Confession: I've thrown in the towel when it comes to healthy holiday eating. Between the cocktail parties, office treats, and elaborate dinners, it seems near impossible! To compensate for my indulgences, I am ramping up my fitness regimen. (Recent studies confirm that regular exercise minimizes weight gain that comes from a fatty, high-calorie diet.) If holiday indulgences also have the best of you, see which kind of calorie-torching workouts will give you the most bang for your buck during this season of indulgence.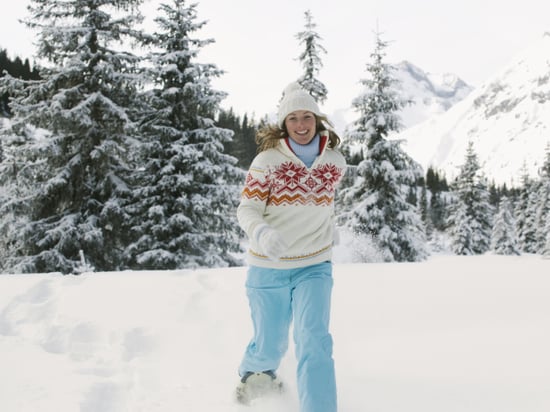 Intense cardio: If you're looking to melt away fat, walking mindlessly on the treadmill isn't the most effective way to go. New research says that intense workouts are the key to weight loss and speeding up metabolism. Skip the recumbent bike and choose a spin class, cardio kickboxing or

dance class

, or run continuously on the treadmill at a challenging speed. The idea is to keep the heart rate up and feel so out of breath that you wouldn't be able to carry on a conversation. Need guidance? Use the talk test to gauge the intensity of your workout.
Interval training: If going at a fast pace for an entire workout seems daunting, opt for interval training instead. Whether you're running, biking, or on the elliptical, alternate back and forth between moderate and beyond-fast speeds. A recent study in the International Journal of Obesity confirms that interval training is key when it comes to getting rid of belly fat. Interval training also increases the after-burn effect. This means that post-exercise, your body burns more calories, even at rest or sleep, after doing intervals than after doing a steady paced workout. Check these examples of interval workouts to do on the elliptical, treadmill, and more.
Circuit training: Circuit training is the best of both worlds: a workout that mixes strength training with cardio. (This also makes it an effective workout to do when time is short.) Even though it may not seem like it, building muscle is key to losing weight. Since muscle tissue requires more energy to exist than other tissues (like fat), it burns more calories overall. Mixing it in with cardio keeps the heart rate up, meaning you kill two birds with one stone. Check out this 30-minute circuit workout.