Ways to Strength Train Outside
Fit Tip: Take Your Strength Training Routine Outside
As soon as the hint of Summer comes along, I'm all about taking my workout outside. I'll admit, however, that for me, forgoing the gym for the great outdoors usually means I'm out for a run. Luckily, there are many ways I can take more than my cardio outside. Here are some ideas for enjoying the fresh air while you tone up and stretch out.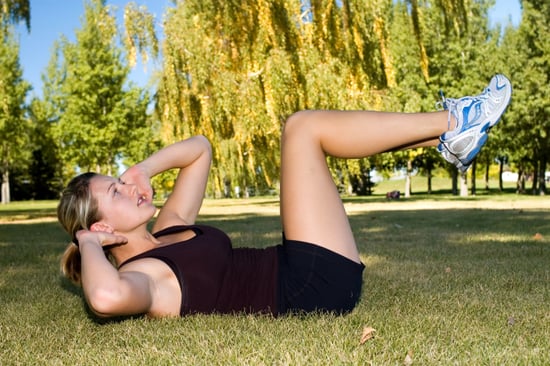 Take a bootcamp class: Ready to get whipped into shape before most people are even awake? Take advantage of mild Spring mornings by enrolling in an outdoor butt-busting boot camp in your city. You'll learn new moves and blaze through your workouts to see results by Summer.
Create your own workout club: If you feel a little bit self-conscious or unmotivated to do a circuit workout outside when you're by yourself, then gather a few workout buddies to join. You'll have fun creating your own workouts (or try this circuit workout) and helping each other keep correct form, all while ditching the dark gym for a sunnier setting.
Use the playground: Watching the kids at the playground? Take a few minutes to tone your entire body with these simple one-minute playground exercises.
Find a bench: If there's no playground near you, don't worry — all you need is a sturdy bench for an insanely effective workout. Watch our bench workout video here.
Relax with yoga: Stake out a quiet spot, tune into your Sun Salutations playlist on your iPod, and spend some time stretching and toning in the sun.
How do you exercise outside?