Ways to Use a Bosu Ball
Three Ways a BOSU Ball Makes Your Workout Even Harder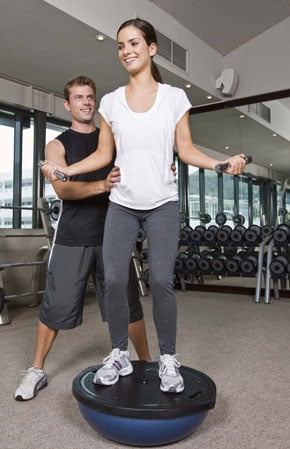 It's not glamorous, but the BOSU, that unassuming half-ball prop at your gym, is a workhorse. Not only can you use both sides of it (which is how its "both sides used" name was coined), but you can also pick it up to add even more dimension to your workout routine. If you've been ignoring the stack of BOSUs in the corner of your gym for far too long, then here are three ways to incorporate the BOSU (or a similar balance-challenging prop) into your routine!
Get unstable: The BOSU makes any workout more difficult, and that includes the ones that are seemingly simple but oh-so effective. The next time you're doing an exercise move, add the BOSU to the mix; everything from a simple deadlift to a side lunge suddenly becomes harder as you use your different muscles to steady yourself on the BOSU. If you need ideas, then try these balance exercise on the BOSU.
Seated ab moves: Spice up even more of your normal everyday moves by sitting on a BOSU instead of the floor. These two-move sequences add the BOSU to traditional seated twist moves make you work your abs that much more.
Change your plank: Those plank moves are always more challenging than they look! But if you're ready to take it to the next level, then use an upside-down BOSU as your planking surface (hold on to the sides), and then do this twisted plank sequence on the BOSU. You may not like it while you're doing it, but you'll thank us later!
Do you use a BOSU or other balancing prop?