Ways Your Vacation Is Making You Fat
How to Prevent Weight Gain When You Travel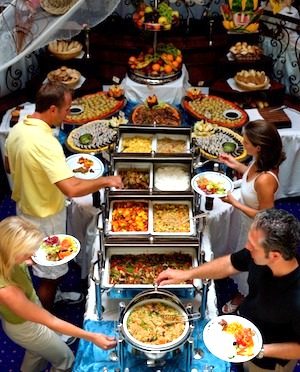 Vacations are all fun and games until you realize your pleasure trip is taking a toll on your waistline! Some of us give our diets and exercise a break when we bon voyage, but if you're a regular jet-setter, you may want to take into consideration these primary culprits for weight gain when you're on a trip.
The food. Whether you're on a cruise or staying at an all-inclusive resort, there is always an abundance of food right in front of your nose. Rather than starving yourself from all that food, eat three-square meals a day (with healthy snacks in between) and order foods that are either baked, broiled, or grilled while keeping an eye on portions. All of these suggestions will help reduce both fat and calorie content.
The cocktails. Of course you want a colorful cocktail with a cute umbrella as soon as you check into your hotel. Unfortunately some of our favorite drinks are filled with calories, which is why the drinks can sometimes do more damage than the actual meal! Don't fret — you can have your food and your drinks too if you try incorporating some of these smart solutions for cutting down on cocktail calories.
Here are some other reasons why your vacation may be packing on the pounds.
Your hotel doesn't have a gym. I get it. Not all hotels and resorts are outfitted with the latest workout gear. And even if you can't find a tennis court or swimming pool nearby to help get your heart rate up, you could go sightrunning, or do some of these exercises in your hotel room. Although if you did want to pack some of your fitness faves, there are some items that won't take up valuable suitcase space!
Your travel buddies aren't active. If the gang you're traveling with is planning on laying by the pool, you are going to have to create your own fitness routine. Try setting your alarm clock an hour before everyone else and head out for a morning walk or run. You should also see if your resort offers any group classes — maybe you can encourage your friends to join you in a sunset yoga class? And if you're really worried about keeping your toned physique but need a getaway, try proposing a fitness trip with your girlfriends — you just never know; they may love the idea!