Wear Fitness Clothes Every Day to Encourage Exercise
Sneakers Are the New Stilettos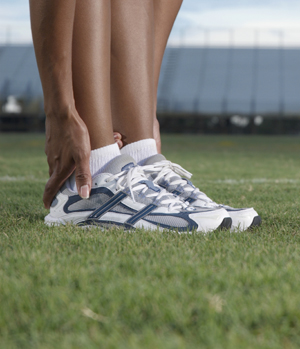 This weekend, a few friends and I went out to dinner — nothing incredibly fancy, but it was a step up from the neighborhood joints we usually frequent. When my BFF showed up at my house for a cocktail, she was barely through the door before being playfully teased by a few of our friends. While everyone else was dressed up in their best "casual dressy" attire, she was rocking her orange New Balance running shoes, a hoodie, a nice t-shirt, and a pair of yoga pants. Making no apologies, she said that we better get used to this look because it's her "new norm."
My friend with the orange sneakers is a single working mom and was once an avid runner. Like many of us, the daily demands of life cut into her hobbies, which included running. The logic behind her new outfit is that she'll be able to run whenever time presents itself. And that night after dinner, it did. After dinner, instead of hopping into the cab with us, she put on her headlamp and ran the two miles home.
Her rationale might seem a little cuckoo, but when I spoke to trainer Harley Pasternak a few months ago, he told me that everyone should wear fitness shoes all of the time. Harley says that wearing them puts you in the mindset of being active, and you're more apt to take the stairs, go on a quick sprint, or do any other fitness activity that might come your way. Most of you agree that wearing your fitness shoes even when you're not working out is a good idea, but would you be able to drop everything for a run at a moment's notice?