Wedding Advice From Jenn Brown on ESPN
ESPN Broadcaster Jenn Brown's Wedding Workout and Dress Fitting Diet Tips
We are pumped to share one of our fave stories from Fitness Magazine here on FitSugar!
As the reporter of ESPN's College GameDay for football and basketball Jenn Brown travels almost 70 percent of the year. That might sound like a dream job, but when your dream wedding is coming up, all those late night drive-thru dinners and wonky work hours can take a toll on your shape! We caught up with Brown just days before her wedding, where she gave us her secrets to how she stayed slim on the road and prepped for her big day.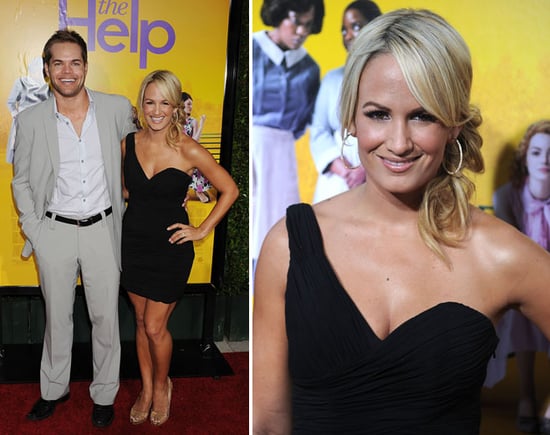 What have you been doing differently to get ready for your wedding?

I took a different approach to working out than I usually do. I am typically a cardio junkie; I'm always running on the treadmill and follow it with 45 minutes of lifting. For my wedding, I really wanted to focus on looking lean and toned. I had just come off of covering football, where I gained my usual footfall five [pounds] from eating on the road in all these towns with delicious food, so I had three months to get into shape. I started doing Pilates three to four times a week. It was weird to me that you could go and work out for an hour and not be dripping in sweat, but I've seen an amazing transformation because of it.
Learn how Jenn stays fit on the road after the break.
I also started taking vitamins. I had a physical last year and realized that I wasn't taking any supplements. Since then, I became a GNC ambassador and started taking GNC WELLbeing be-WholesomeHealth and Beauty Vitapacks. I've been taking them for about five months and have seen the biggest difference with my hair — it grows so fast! Last, I finally went to a dermatologist for my adult acne. It's been such a massively frustrating issue for me, especially since I am always on camera, so I started a routine to get that in order.
What are the best tricks you've picked up while traveling to help you stay in shape?
The biggest thing I've learned is to order a salad right away at a restaurant to pick at. If I have a salad in front of me, I'm much more likely to skip the plate of wings all the guys just ordered. Also, I make sure to work out in the morning. If I don't do it first thing in the day everything else starts to pile up and I'll end up not getting to it at all. I always bring workout DVDs to keep in my room like P90X or Insanity. Those are great when I don't want to go into the gym when all the other players are in there. I've also been known to run the stairs in the hotel, it's a great workout and no one watches you!
I never eat airport food; instead I make a meal before I go. I'll cook grilled chicken breast and some brown rice and put it in Tupperware for when we travel. It saves money and lets me control what I eat. When we get into town I make sure to shop for food if I have some kind of kitchen in my room. Things like almonds and cottage cheese are good snacks to have on hand. After all, you can only order room service salads so much!
Keep reading for more of Jenn Brown's advice to future brides.
More from FITNESS Magazine:
The Ultimate Wedding Day Shape-Up Guide
8 Health Lies Your Trainer Tells You