Weight Loss Motivation Tip
I Did This Once a Month, and It Was the Key to My Weight-Loss Success
I was determined to lose the belly fat I've had since high school, that progressively grew from my addiction to sugar, cheese, and refined carbs (aka Swedish fish and grilled cheese) in college, and then from two pregnancies. Running 30 to 40 miles a week and eating healthy wasn't cutting it — a big change was necessary. My youngest was 3 and a half, so the baby weight had overstayed its welcome big time. I went a little extreme and signed up for CrossFit. After one month of classes five times a week, I saw my body beginning to change and felt so much stronger and more confident, and I was hooked. I decided to give it six months, convinced I'd be completely ripped by then.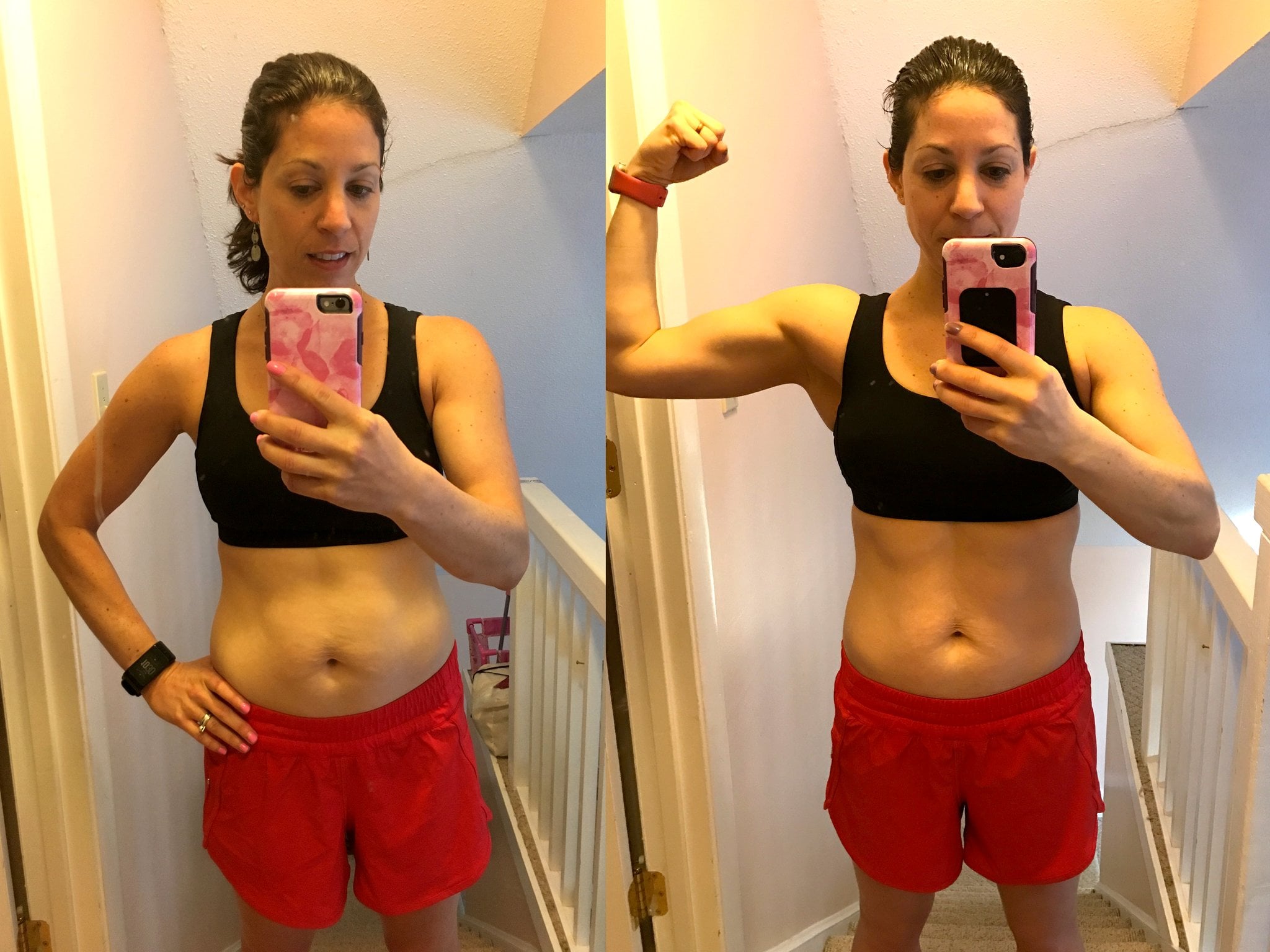 Month 1 vs. Month 6
But I wasn't. Far from it. My belly fat was still there, I had actually gained a few pounds, my upper body looked thicker, and my sports bras and jeans fit tighter. I was a little embarrassed and very discouraged and seriously considered quitting CrossFit. But taking progress photos every single month kept me motivated. When the first week of the month rolled around, I'd put on the same Lululemon shorts and sports bra and take a selfie of my front, side, and back.
When I'd look at the latest photo, I'd frown a little, not seeing the image I had in my mind of my goal body. But then when I'd look at that photo compared to my starting photo, I could see results! My progression was slow. And some months, it even looked like I was going backward. Lighting, angles, time of day, what I ate the night before, and whether or not I felt bloated all affected how these images looked, so I had to remind myself that.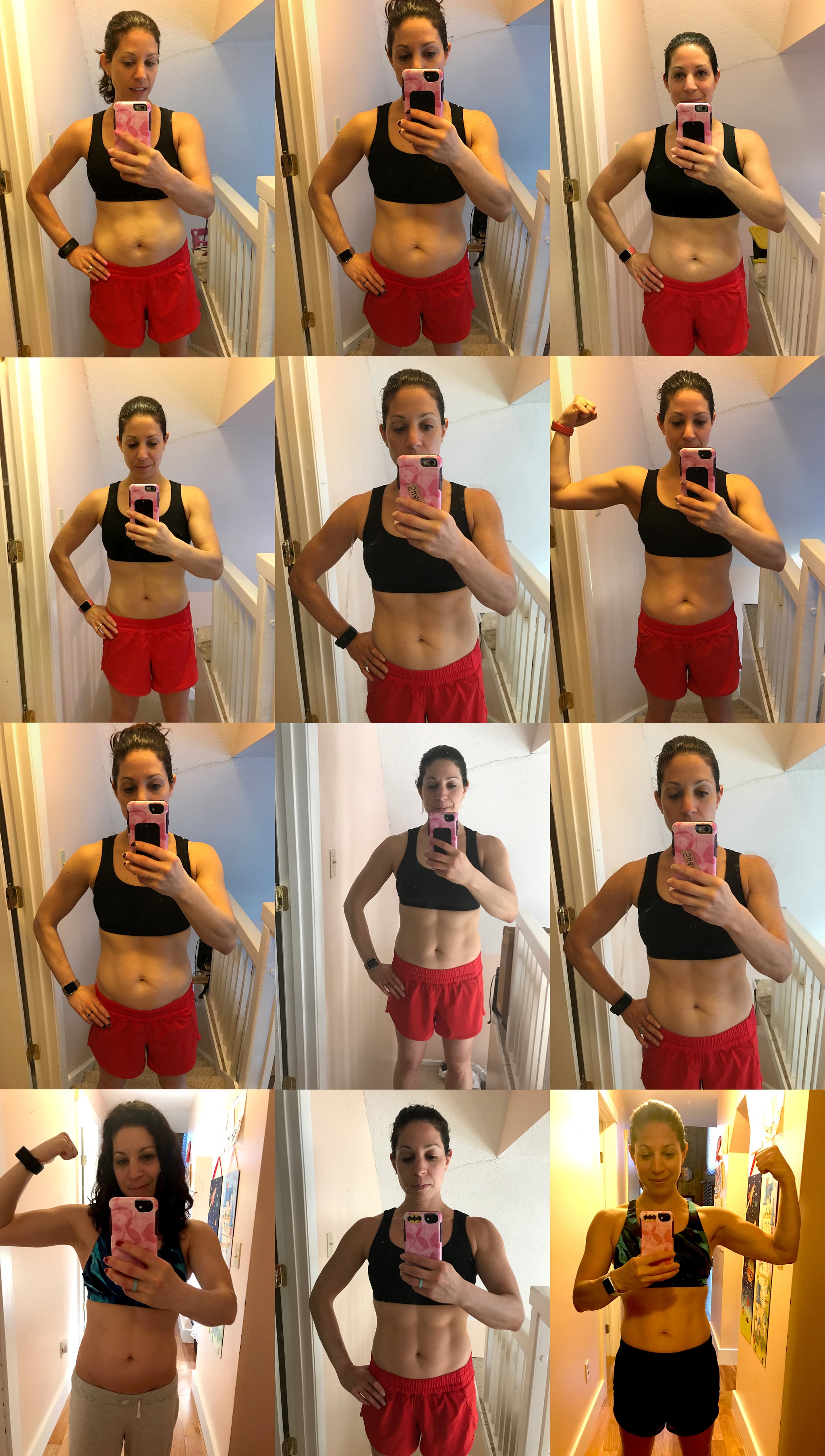 Months 1 through 12
But seeing these photos and the small changes in my body was the motivation I needed. If I only had the disappointing and increasing scale numbers to go by, I would have felt very defeated. Actually seeing my body change from month to month, regardless of numbers on the scale, was essential to the success of my journey.
If you're frustrated by the numbers on the scale, or you're against weighing yourself completely and want a way to keep track of your progress (and your muscles!), get out the camera. Pick an outfit you'll wear every time, and take the damn photos. You don't have to show anyone. Even if you know you didn't eat great or exercise much that month, take the photos! They'll keep you accountable and inspired to stay on the journey to a healthier, more fit you.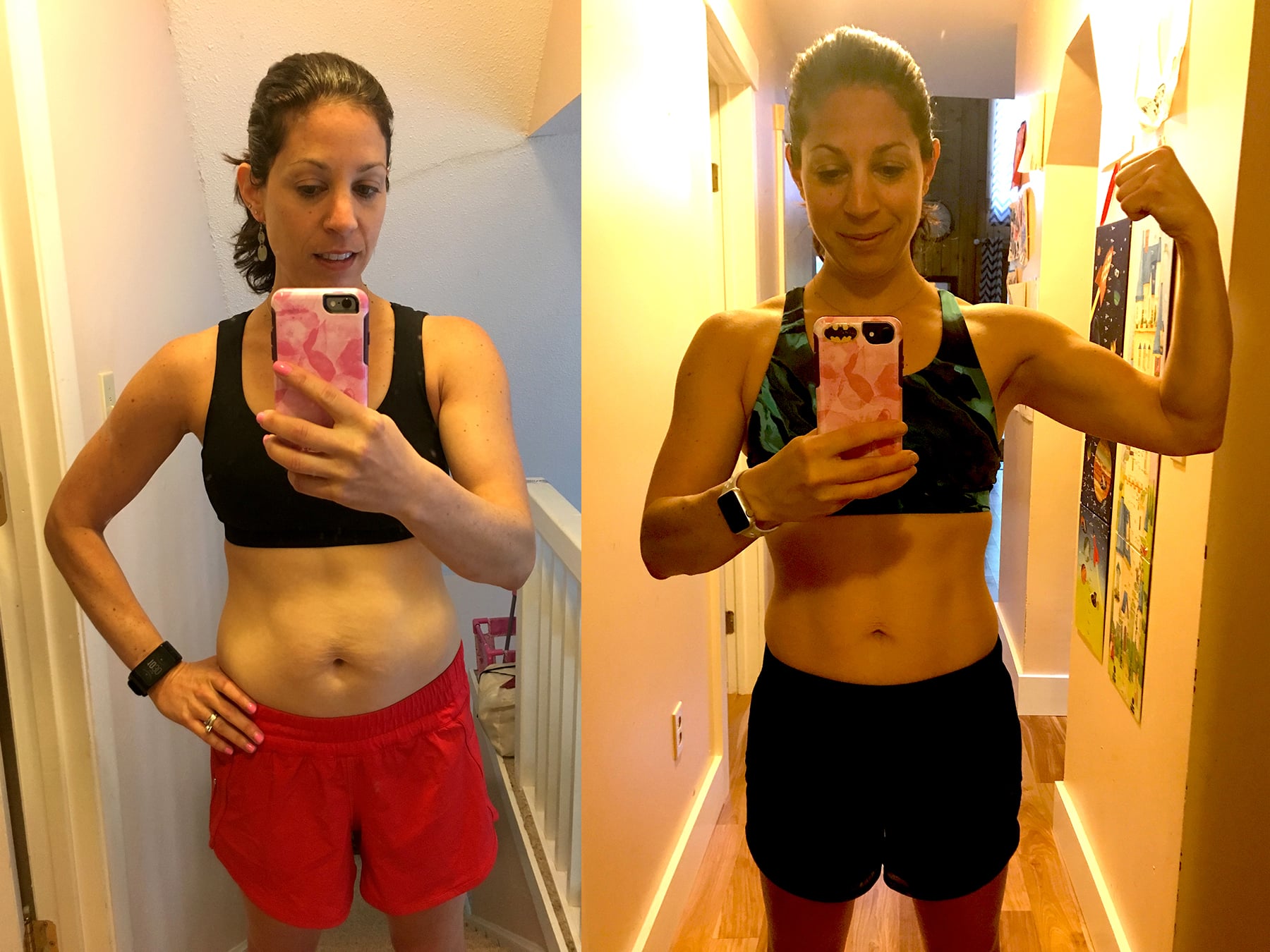 Month 1 vs. Month 12