Weight-Loss Tips For Dinner
4 Dinner Mistakes to Stop Now
You start your day with a healthy breakfast, grab a salad for lunch, but by the end of the day, you're feeling tired, hungry, and ready to eat anything and everything. Before your dinner keeps you from losing the weight you want to, make sure you avoid these dinner mistakes.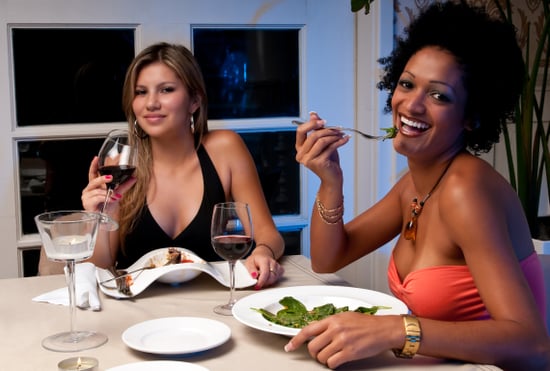 Eating too much: Depriving yourself all day can lead to a dinner that's got you heading for seconds and thirds. To prevent overeating at dinnertime, make sure you are eating well and often during the day, and eat slowly during dinner so you can recognize when you're full. Put away leftovers so you aren't tempted to scoop more on your plate, and use these tricks for getting the "I'm full" signal to prevent overeating at dinnertime.
Eating too little: Dieting mistakes don't just happen when you're overloading your plate. Eating too little at dinnertime can just make you ravenous later at night — and one chocolate chip cookie binge can undo all the good work you've put in during the day. Make sure you eat a balanced, fulfilling meal that includes enough proteins, fats, and carbs to keep you full without you resorting to the packaged foods in your pantry before bed. If you eat a healthy meal and still like to wind down with a snack, then choose a healthy late-night snack option that won't break your calorie bank.
No veggies: Vegetables are a low-calorie way to sate hunger and fill your body with much-needed nutrients. But if you find your plate is filled with fewer greens and more high-carb sides, then it's time for a plate makeover. Try starting your meal with a salad to help curb hunger, and when it comes to sides, make sure the majority of your plate is filled with vegetables.
Not stopping at one glass: Whether it's juice or wine, those glasses can add up. Make sure you factor in the calories in your drinks, and don't go overboard with the refills.