Weight Room Etiquette
Mind Your Weight Room P's and Q's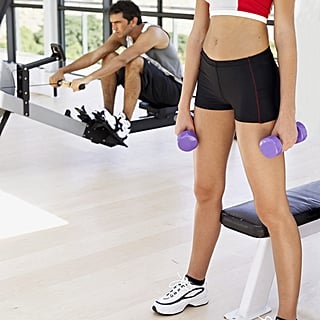 You might not be in school, but it's still important to learn your P's and Q's, especially if you are new to weight training. It's intimidating enough to be surrounded by a bunch of men with loaded guns, pumping iron. Enter the room, and act like you know what's going on by reviewing these rules on weight room etiquette.
Use equipment properly – Know how to use the equipment. Read the diagrams; ask someone near you; or hire a trainer to guide you through the correct alignment.
Keep noisy distractions to a minimum – Don't bring your cell phone in the weight room. If you are listening to music, keep it on a low enough volume so you can hear what's going on around you. Also, don't let hand weights drop carelessly to the floor. Instead, put them away where you found them, quietly and gently.
Towel off – Keep towels near you to wipe down equipment, weights, benches, and yourself.
Upright and locked position – For adjustable machinery that has parts that can stick out dangerously, be sure to return all levers to the upright position so they are out of the way to prevent injury and so no one has to dodge them.
See more weight room manners.
Don't hog the water fountain – Better yet, bring a full water bottle with you. Otherwise, take some sips, and let others go ahead before you go back for seconds. If you want to fill your bottle, offer for others waiting in line to use it before you finish filling the bottle.
No sitting – Don't rest on a piece of equipment in between your reps. Jump up, and let someone else use the machine while you are taking a breather.
Unload the weight – Take off the weight after your reps, so the next person won't have to do it for you.
Place for everything – Respect the organization of the gym by returning weights to where you found them.
Keep the floor clear – Don't clutter the floor with your gym bag or personal belongings and don't litter it with weights, rollers, or Bosu balls. There is a lot of movement going on around you, which means you need to keep pathways clear for travel.
Be aware of others – You don't want to hit someone, or be in someone's way while you are performing an exercise. Scan around you before you execute your set. Also, never drop or throw the weights down when you complete a set. You could break your foot or a neighbor's.