What to Add to Oatmeal For More Fiber, Calcium, and Protein
Top of the Morning: Oatmeal Extras For Fiber, Calcium, and Protein
Oatmeal offers a number of health benefits on its own, but this breakfast superstar benefits from some company. Adding toppings to oatmeal not only makes it tastier, but many add-ins improve your health as well. Dress up your morning bowl depending on your nutritional needs. Here are the best toppers to increase your fiber, calcium, and protein. Plus, all these toppings lower bad cholesterol, just like oatmeal!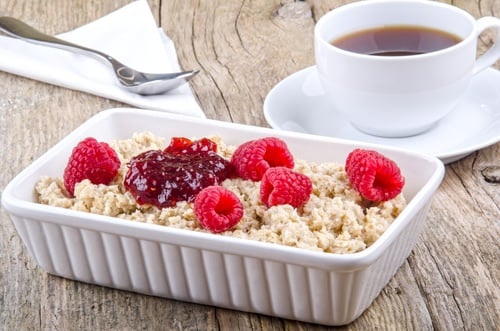 Fiber: In addition to keeping you regular, fiber also lowers the risk of heart disease and diabetes. Raspberries deliciously top the charts as the most fiber-rich fruit. With 4 g per half cup, this addition doubles your overall fiber intake when added to the 4 g of fiber in oatmeal. The recommended daily fiber intake for women is 28 g, and a raspberry-topped bowl of oatmeal helps get you almost a third of the way there before noon. Not in the mood for a tart topping? Pears, apples, and dried figs are all close seconds to get extra fiber in your diet. If you want to add a little texture to your oatmeal, barley contains a higher fiber content than oatmeal, and you can mix the two together.
Calcium: The not-so-secret mineral to strong bones, calcium is also necessary for heart, muscle, and nerve function, so don't skip out on your recommended intake. For women, 1,000 mg to 2,500 mg is the ideal amount to absorb daily. Vitamin D makes it possible for calcium to be absorbed by the body, so combining the two is most beneficial. Foods that contain adequate amounts of both vitamin D and calcium include fortified soy milk, dairy milk, and certain yogurts. These easy additions also add protein, among various health benefits. Note that if you don't receive a lot of sun exposure where you live, you may want to increase your vitamin D intake.
Protein: Although they have a bad reputation for their fat content, nuts are a great source of protein. Adult women require about 46 g of protein per day, so adding some into your breakfast is key. Nuts also contribute heart-healthy fats, antioxidants, and fiber, which can help with weight loss by keeping you feeling full longer. Keep the portion to about one ounce of nuts a day (approximately 28 g). The healthiest and tastiest toppers include walnuts, pecans, and almonds.