What Alicia Silverstone Buys at the Grocery Store
Go Shopping With Alicia Silverstone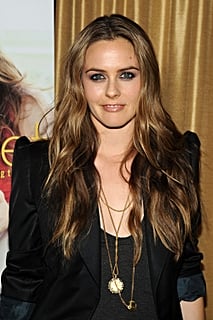 On yesterday's Oprah Show, actress Alicia Silverstone took cameras grocery shopping with her. I have to say that I was surprised at how many processed foods Alicia picked out. Although I know a lot of vegans who rely on synthetic meat and processed foods as the backbone of their diet, I expected Alicia to be different.
In her book, The Kind Diet, the actress really touts the benefits of grains, vegetables, and fruits over convenience food. Because of that, I'm thinking this list might not be reflective of Alicia's normal dietary habits, but her way of showing a mass audience that you can still eat well and indulge if you're vegan.
While shopping, Alicia raved about brown rice ("If you add whole grain rice to your diet, it will change you") and leafy greens ("They're loaded with calcium and make your skin glow"). She also couldn't wait to bite into a mint-flavored ice cream alternative, a Rice Dream mud pie. Alicia said that the mud pies still make her feel "naughty" in the same way that ice cream can.
To check out some of the other items on her list, read more.
Follow Your Heart cheese
Vegenaise
Organic olive oil
Maple syrup (an alternative to sugar)
Gardein Chick'n Scallopini
Newman O's
Check out the rest of Alicia's list at The Oprah Show.