What Is an Alkaline Diet?
Alkaline vs. Acidic: The Foods and Their Potential Benefits
There's a lot of talk in the health world about eating alkaline or acidic foods from proper pH levels, but does it really make a difference to your health? While no extensive evidence has been able to prove the positive effects of an alkaline diet, proponents believe it can help slow bone loss, prevent chronic disease, and ease lower back pain because it aims to neutralize acid levels in the body, leading to overall improved health.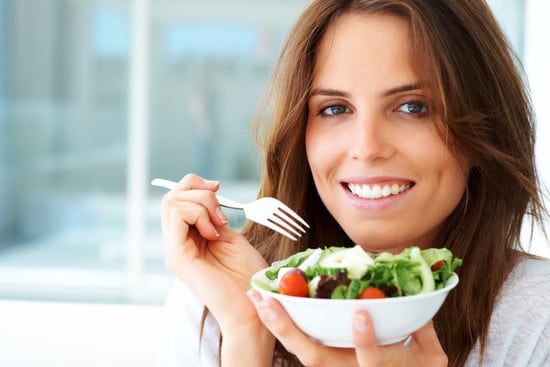 A pH is the body's level of alkaline to acid. Zero is completely acidic, while 14 is completely alkaline, and the neutral level is seven. The reasoning behind eating primarily alkaline foods, and even alkaline water, is to get the body's pH closer to this neutral number.
Alkaline foods: Fruits, vegetables, soy products, nuts, grains, and legumes.
Acidic foods: Meat, fish, poultry, dairy, processed foods, refined sugar and flour, and caffeine.
Since alkaline foods are mostly vegetarian, the healthy benefits of following a vegetarian diet have added to the belief that following an alkaline diet is also beneficial. While there have been no extensive studies confirming the benefits of an alkaline diet, here are some tips to follow if you're curious as to whether or not it might improve your health. At the very least, you will be eating a diet full of fresh produce, lots of water, and healthy protein — this can't be too bad, right?
Focus your diet on fresh fruits and vegetables.
Drink plenty of water throughout the day.
Get the right amount of protein without overconsuming; focus on soy, nuts, and legumes.
Watch your caffeine intake.