What's the Best Way to Measure Your Workout?
Here's Why Tracking Calories During a Workout Isn't as Accurate as You Think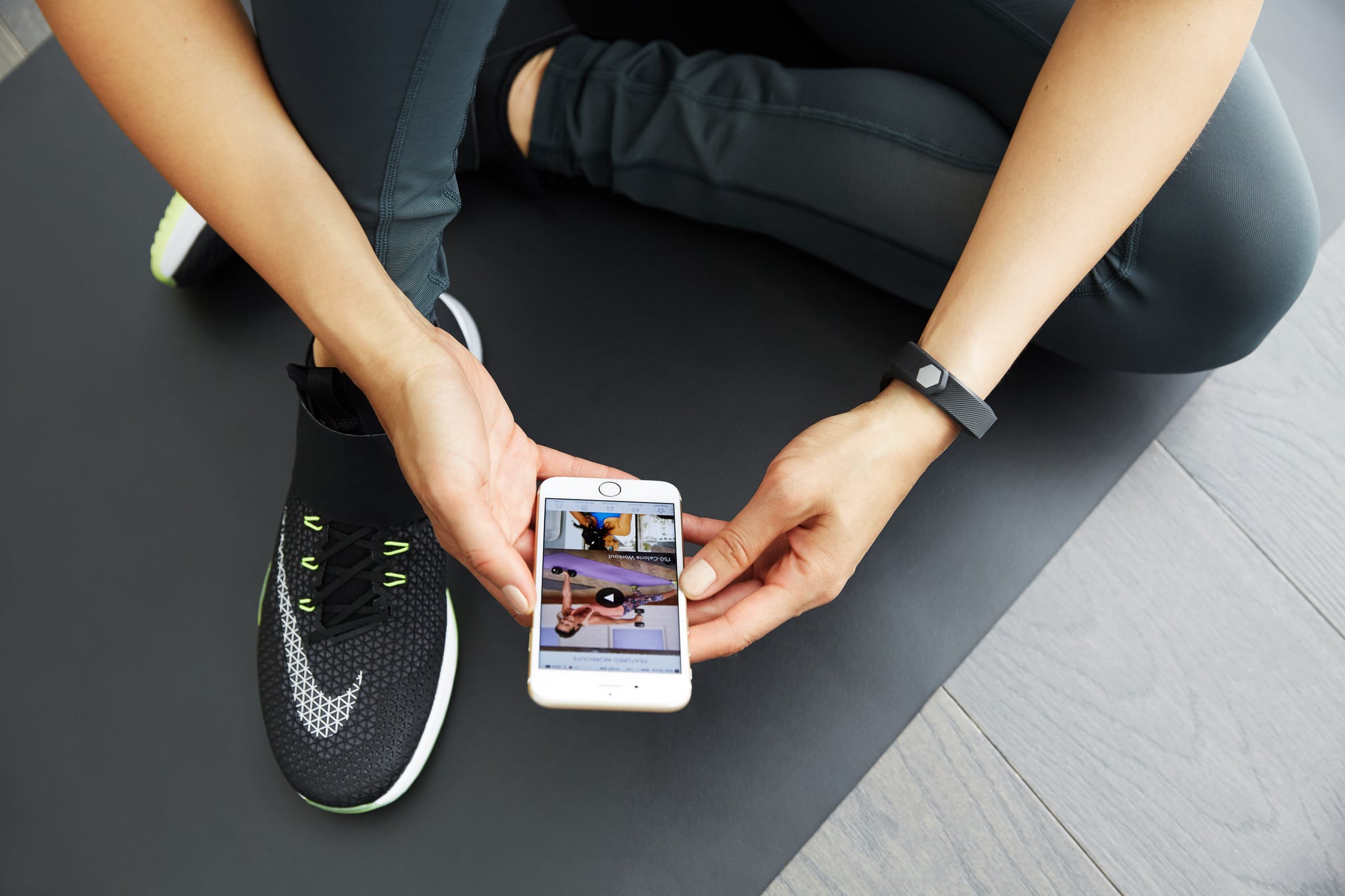 With fit tech being more popular than ever, it almost feels like you can't exercise without tracking your workout in some way. Sort of like, if you didn't log your workout on your Apple Watch, did you even really work out?
But what's the best way to track your exercise and how "good" of a workout you got? Is there one particular metric to measure exertion? It seems like many of us base a "good" workout on how many calories we burned — but do you realize how relative calorie burn actually is?
I personally wanted to know more about the best metrics for quantifying exercise to make sure I'm getting the most out of every gym workout, bootcamp class, and cycling session. I chatted with some experts — physiologist Nicole Aurigemma, M.Sc.; Erica Stenz, Barry's Bootcamp trainer; and Michelle Opperman, director of group fitness for Crunch — to see what they thought of my tracking, what they think of calorie burn as a metric, and their favorite way to measure a workout.
Do You Track Your Burned Calories?
When you're working out and using a tracker, do you focus on the calories you've burned as your key metric? This might not be the best approach.
"When you start to base it on calories, I think it can lead to kind of obsessive behaviors," said Nicole. "Like, 'I burned this many calories so I can eat this!' or 'I haven't burned enough calories to eat this meal.' It's a slippery slope."
There are so many nuances to calorie burn — how tall you are, how much you weigh, your level of fitness, your temperature, your resting metabolic rate; you could be working just as hard (or harder) as the person who's next to you in class, but unless your bodies are absolutely identical, your calorie burn will be different. It doesn't mean you didn't get a great workout if you burned fewer.
Combine all those factors with the possibly inaccurate tracking on a Fitbit or an Apple Watch and you've got yourself some pretty useless data.
There are also so many ways that you're bettering yourself through exercise that can't be quantified with calories. "I think hard work can mean so many things when working out," said Michelle. "For example, mastering a skill or skills could equal hard work that has nothing to do with calories burned."
Do You Use a Tracker?
I love my Apple Watch, but when I started looking at my heart rate data, I was a little thrown. During an exceptionally challenging Barry's Bootcamp class, the Watch reported that my heart rate dipped to 47 during my weight training. FORTY SEVEN. My resting heart rate is in the 60s. How was it possible that when I was lifting weights, my body was moving, and I was sweating like crazy and breathing heavy that my heart rate could be so insanely low?
I ran this by Nicole, who said, "If you are moving around, there is no way your heart rate should be as low as 47. I could believe it was 47 after sleeping eight hours in supine position, but not during an exercise."
And while it's not news that wrist trackers aren't the most accurate, it led me to second-guess my watch's tracking abilities for the first time — how am I supposed to quantify my workouts with an unreliable tracker? Do I need a chest strap? How do I crush my brother and dad (my only Apple Watch friends besides The Fitness Marshall) in daily calorie burn? (Spoiler alert: I can't.)
So How Should You Track Your Workouts?
"For me, I measure how hard I work out by how much I am sweating and how fatigued I feel after," said Michelle. "I used to use my Fitbit. But for me I almost got more focused on the number than the intensity of my workouts and decided I preferred to just go by how I feel."
Erica had similar advice to Michelle — base it on how you feel. "The best way that I determine if I've had a great workout is perceived rate of exertion," she said. "For example, on a scale of one to 10 (10 being the hardest workout ever) how did that feel?" Similarly, you can use the talk test as a means to measure how hard your body worked.
She said it's important to keep in mind that calorie burn occurs after your workout, too. "Even if you burn more calories doing cardio, when it comes to strength training, you will experience EPOC — is exercise postexercise oxygen consumption — which means after your strength-training workout, you will continue to burn calories and increase your metabolism!"
If you still need some kind of number, Nicole recommends a chest strap — she uses one from Polar. "I would base your workouts on heart rate as opposed to calorie burn," she said. "The data is more accurate." So much so that she's using her Polar tracker in a study at Penn State.
But all three women emphasized that exertion doesn't always need to be quantified. While I love my data, I also know that even if I don't track a workout, I still get an incredible high from exercise and a mental release that can't be quantified. We so often get caught up in numbers, the decimal points on the scale, the calories on a nutrition label . . . the heart rate on our tracker! While these numbers do serve a purpose, it's best to look at the total picture.
It reminded me of an experience I had at a boutique studio, when the instructor said "this move burns the most calories, and that's the best thing you can get out of a workout," while two women after class told each other that they "earned" their cocktails. That mindset isn't healthy and exercise is all about being healthier, so it's pretty counterintuitive.
Image Source: POPSUGAR Photography / Sheila Gim