What Are Coregasms?
Another Reason to Exercise: Coregasms!
There are tons of health benefits linked to a healthy sex life including better sleep, stress relief, and a stronger immune system, but you can reap the benefits of sex without actually doing the deed. While the big "O" is usually experienced behind closed doors, there are many women experiencing it in the gym.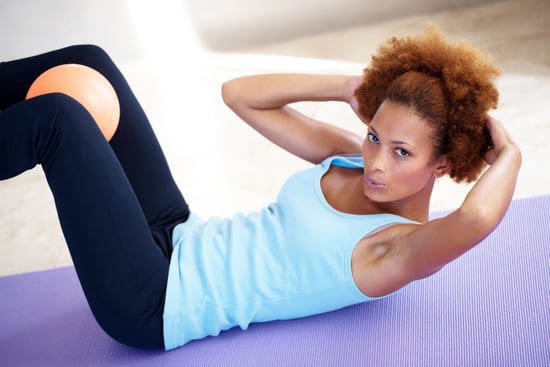 No, I'm not referring to a naked yoga class. This astounding fitness phenomenon is known as the coregasm, and it can happen anytime, anywhere. Just as the name implies, women can experience orgasms when working their core muscles, whether they're doing crunches, strengthening leg lifts, or backbends in a yoga class (talk about an enlightening experience!). And even better news? It's actually pretty common.
It happens when women tap into the muscles in their deep core, quads, or thighs. They end up automatically squeezing the pelvic muscles, which triggers nerve impulses, and voilà — a coregasm is born. One squeeze won't necessarily work, but if you're doing many repetitions that much stimulation can cause intense pleasure. After experiencing your first coregasm, you'll see crunches in a whole new light, and if that doesn't get you to the gym, then I don't know what will!