What to Do With Hands in Plank
A Warning From Teddy Bass (aka Cameron Diaz's Trainer): Stop Praying in Plank!
Teddy Bass makes a living keeping people in shape, including Cameron Diaz. Always a presence on the red carpet, Cameron has mastered the art of posing — confident, tall, and never without a smile. No doubt, this is in large part thanks to doing one of Teddy's favorite exercises for posture (and core strength), the ever-so-basic plank. "It's an incredible exercise," Teddy told us at a recent Asics event. "It forces you to use all the muscles in your back that keep you upright and erect — instant posture lift!" That is, of course, if you're doing it correctly, he says.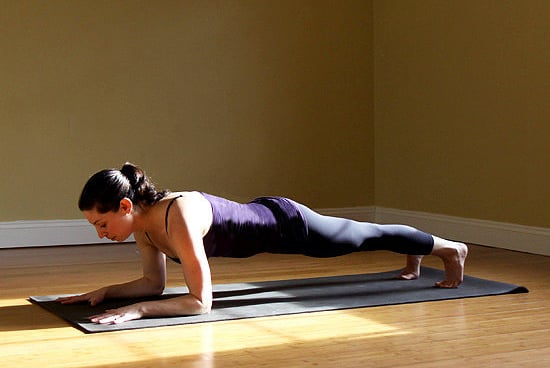 Photo: Jenny Sugar
While there's nothing wrong with doing a modified version of traditional plank, Teddy sees too many women clasping their hands into a fist, or "prayer mode," while balancing on their forearms, which isn't good for achieving great posture. Locking your hands into a fist causes the upper back to round and the shoulders to hunch in, when ideally, you want to stay open and flat with the shoulders stacked directly over the elbows, says the celeb trainer.
When in the modified version of this move, start in traditional plank, then lower each forearm to the floor with your palms facing down. Place your elbows where your hands were, and spread your fingers wide. Doing so will keep all of the muscles in your back fired and engaged — especially your erector muscles, which run along the length of the spine. Teddy suggests challenging yourself even further by moving in between a forearm plank and traditional plank for an up-down plank. How many can you do in one minute?