What to Do on VersaClimber Cardio Machine
Learn to Love the VersaClimber With This Short Workout
No doubt you've seen the VersaClimber at your gym — that tall piece of equipment, lurking in the corner behind the more popular cardio machines. But the VersaClimber's unpopularity is also its saving grace: there is never anyone using it, so you hop on it without a wait. Since the machine is often empty, you can also use it to add short bursts of cardio to your circuit training sets, just like my Equinox trainer Lauren had me do recently. It was my first time on the VersaClimber, and I have to say I liked using the machine but it's a killer. I felt like I was climbing up an almost vertical wall.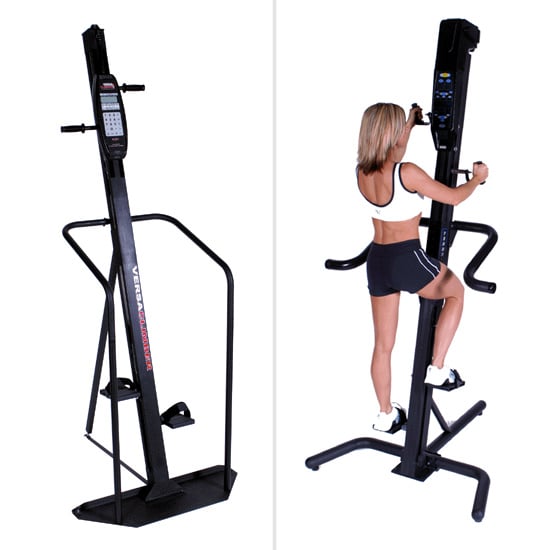 The VersaClimber works both your arms and legs while making your heart rate soar. Decreasing the tension on the machine's gearing forces you to use your upper body more; when you increase the tension, the work is more in your legs (I felt it more in the hamstrings than my quads) but your arms will still be feeling it.
Keep on reading to get the short interval workout from Lauren.
First, adjust the handles to a comfortable setting; there are three holes to choose from for positioning the peg-like handles. Set the tension to medium-high. You want to feel your arms and legs both working.
Step on, tightening the straps comfortably around your feet. Begin by moving through the full range of motion of your arms and legs. As you "climb" your opposite arm and leg with be fully straight. Keep climbing like this for 30 seconds.
To finish out the first minute of the workout, drastically decrease your range of motion but pick up your speed considerably for 30 seconds. Move your hands and feet as quickly as you can keeping the movement as small as possible. It should feel like a tight sprint.
Keep alternating styles of movement every 30 seconds for two to five minutes. Repeat this for three sets. On the last set, decrease the tension to work your upper body more.
Using the VersaClimber is fun, but it's challenging to stay on the machine for an entire workout session. So pepper your circuits with some time on the machine. Here's an example of a three-move circuit including a cardio session on the VersaClimber:
Ab work: Start with a full sit-up with Russian twist holding a three- to five-pound medicine ball (learn how to do this killer ab move here). Do 20 reps.
Core work: Begin in an elbow plank. Keep your torso as still as possible and reach your right arm forward. Your arm should be parallel to the floor and even with the line of your body. Come back into an elbow plank and reach your left arm forward. Continue alternating your arms like this for one minute.
Cardio: Do three minutes of the VersaClimber interval workout above.
How do you feel about the VersaClimber? Whether you love it or hate it, we want to know.