What to Do When Your Gym Is Too Busy
How to Navigate a Too-Busy Gym
Once the weather takes a turn for the worse, your local gym can become abuzz with former sun worshippers who need a warm, dry place to exercise. If you dread days when the gym is too crowded, here are some suggestions for sticking to your routine even when your once-quiet gym becomes popular.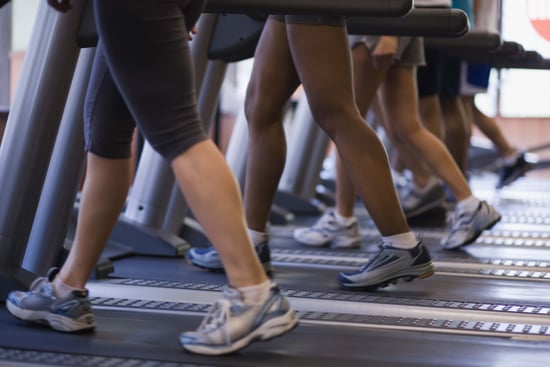 Switch your gym time: Lunch and postwork hours can be busy at the gym. If these are your go-to times to exercise, try to rearrange your schedule to hit the gym at a different hour. Whether it's an early morning session or a quick trip during the quiet afternoon, there's probably a time that you could go that avoids the crowds. Want to know the best time to go? Here are the pros and cons of working out during the morning, afternoon, or evening.
Discover a new machine: What to do when people are lining up to use the elliptical and treadmill? Try an overlooked machine instead. Make like you're hiking on the often-empty StepMill, or work your upper body while still increasing your heart rate with the rowing machine (if you've never used one before, check out these tips for using the rower). Ask a gym trainer how to use any machine you're unfamiliar with or if they have any suggestions on effective but overlooked equipment at the gym.
Read on for more tips for braving the crowds at the gym.
Sign up for a class: Don't jostle elbows to make room for your mat in a popular class. See if your gym offers a class that requires that you sign up beforehand. If you know you can get to the gym before it fills up, you won't have to waste time waiting for the workout you want.
Switch up your routine: You never miss a day of cardio, but neither do your fellow gym rats. If the elliptical or treadmill machines are always full when you get to the gym, try switching your routine so you do strength training first. This may not be ideal, depending on your workout goals — it's recommended that you start with cardio if you want to burn the most calories — but if you're pressed for time, rearranging your workout is better than no workout at all.
Take your stuff with you: Sometimes, it can get so crowded that there aren't any free lockers available. If hunting for an open place to stash your stuff is discouraging your healthy intentions, don't waste time in the locker room. Bring your bags with you to the gym floor; as long as you keep them out of the way of other gym goers (and keep an eye on them during your workout), you'll be able to get on with your exercise.