What to Do at Work Before Going on Vacation
Vacation Over? Do-Ahead Tips to Return to Work Stress-Free
After an extended period of travel, getting back into the swing of a normal day-to-day routine can seem stressful and overwhelming. This is especially true when it comes to work-related tasks: coming back to an inordinate amount of emails, pending deadlines, and just office life in general is often hard to manage after spending a week or two away. To make the transition from vacation to work go a little smoother, do these things before even boarding the plane.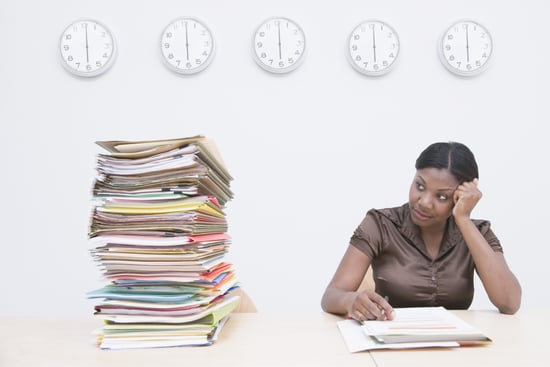 Wrap up any unfinished business: Before you say, "see you later" to work, finish up as many projects as you can — this also includes getting through all of your email. It'll keep you from worrying about all the stuff you need to catch up on once you're back, and you can relax and enjoy yourself. It's also much easier to come back to the office when you don't have a pile of folders waiting for you. If it's impossible to finish every task on your desk, leave yourself notes about the status of where you're at and touch base with any colleagues that are working on these projects with you.
Clean your work area: After a week in paradise, the last thing you want to see is a cluttered, disorganized desk — it's only going to make it that much harder to transition from vacation mode to work mode. Before going on vacation, file away anything that's on your desk, clean out and organize your drawers, and give your workstation a good wipe down. It's such a simple thing to do, but coming back to a clean desk makes returning to work much easier.
See more tips on making the return to work stress-free after the break!
Let people know you will be away: Coming back to an inbox overflowing with emails or a maxed-out voicemail is enough to make anyone wish they never left the resort. Alleviate the onslaught of messages by simply letting people know you're away — if they know you're traveling, they're less likely to bother you! Talk to your immediate team and co-workers about how to best deal with things while you're gone, and set up a detailed out-of-office reply for both your email and phone line. Include the dates you'll be away and a person that can be contacted in your absence. Having a point of contact while you're on vacation is huge: they can field easy requests and questions, which means you'll have less busywork to do once you're back.
Start work in advance: If you have any free time before leaving on a trip, try to get a jump-start on work. Craft a to-do list that you can dive into when you return, schedule any future meetings, or start in on any projects that you already know are in the works. A head start will help to make your transition back to work smooth and stress-free.