What to Do in a Yoga, Pilates, or Barre Studio Class
5 Tips For the Studio Newbie
It's not just yoga and Pilates anymore; the popularity of studio classes — spanning everything from ancient practices to trendy new hybrid workouts — keeps rising. So if you've never set a bare foot in a yoga/Pilates/barre/dance class, then here's what you should know.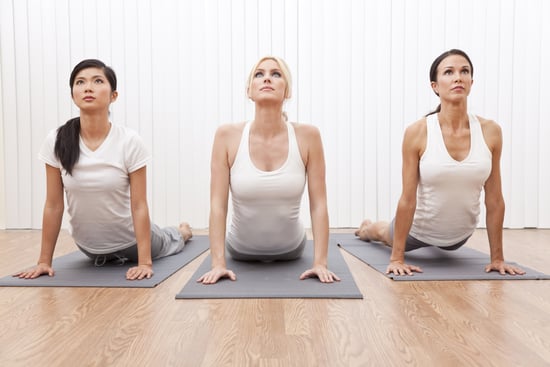 How to choose: The last thing you want to do is shell out money for a 10-class package only to realize that you dread the thought of coming back. Many elements come into play when choosing the right class: the studio's location, what the class and teacher are like, and even the regulars who go there. Not sure how to start your quest for the perfect studio? Ask about new-student specials before you commit; many studios offer low-cost new-student packages so you can discover what type of class is the right fit for you.
What to bring: You'll only need the essentials when it comes to studio class, and knowing what to bring beforehand can make your transition from street to studio quick and easy. Wear a light cover-up that you can throw on over your workout clothes after class; if you know you'll be working up a sweat, then make sure the cover-up is moisture-wicking to help you avoid feeling like you're wearing wet clothes. Since most studio classes are held barefoot, wear easy-on-off shoes. You also will want to bring a water bottle and a bag to hold your essentials, but since many studios use unattended lockers to hold your stuff, try to leave your valuables at home.
What to wear: Most studio classes will have you moving around, twisting, and stretching your body in various positions. What you don't want to deal with, then, is the worry of flashing the class or trying to keep a too-loose shirt out of your face in Downward Dog. The right apparel is very important; stick with body-hugging leggings and tops that still allow you to move and stretch. And if you're taking a hot yoga class, then here's a word of advice: leave those hot pants at home and opt for full-coverage capris or leggings instead.
Keep reading for more studio tips!
What to eat: Whether you're stretching in yoga class or feeling the burn in barre, what and when you eat before your workout can make all the difference. Stick to something small that contains a small amount of carbs, fiber, and protein, like fruit and yogurt or a handful of nuts — but make sure you keep portions small and eat at least 30 minutes to an hour before class to avoid an upset stomach.
Don't forget to play nice: Another important component of your new studio routine is maintaining proper etiquette while you're in class. While it may seem like all the regulars know something you don't, remember that when it comes to studio classes, most rules are pure common sense: don't distract other students by talking over the instructor, give your fellow classmate enough room to practice without bumping into you, and always show up on time. If you're worried about not knowing what to do, then get to the studio a little early so you can ask the receptionist or instructor any questions you have.
If you're in need of more advice, then check out our etiquette tips for yoga newbies — many of these tips apply to all studio classes! — and check out this list of common Pilates class mistakes so that you don't make them.