What Do You Know About Fro-Yo?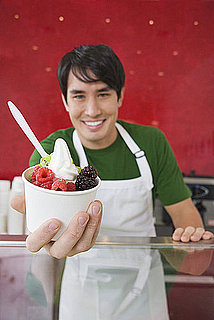 Even when it's cold outside, I've got a sweet tooth for a frozen treat. I'm big on frozen yogurt, since it's a healthier bet than ice cream. With three frozen yogurt stops within a 10-block radius of my house, I've started to do a little comparison shopping — by nutritional information — and was surprised to learn that there are some major differences in my frozen yogurt options, even when they're all nonfat. Take the quiz to see how much you know about the sweet treat.
What Do You Know About Fro-Yo?
T/F: A small, original flavor nonfat Pinkberry yogurt contains more than 250 calories.