What Not to Do in Your Next Yoga Class
I've been teaching yoga for over 11 years, which means that I've experienced a lot in the hundreds of classes I've taught. Of course classes usually go smoothly and students are usually very polite and conscientious, but there are a few people whose inappropriate behavior ruined the class for the rest of us. I have witnessed all 10 of these, so here's a friendly reminder of what not to do in a yoga class.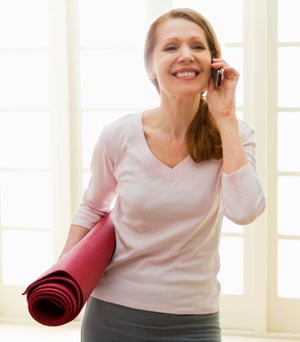 Wear the same sweaty outfit you wore to the class the day before, use the same sweaty towel or stinky mat, or forget to wear deodorant. Same goes for overly scented perfumes or oils — save them for your home practice.
Talk out loud to your neighbor during class about how awful your date was last night, the funny thing your co-worker said, how much you want a glass of wine right now, (or about anything for that matter).
Get up and assist someone in the class you don't know.
Answer your cell phone and scream to the person on the other end, "I'm in f***king yoga. Why are you calling me?" (Yes, this seriously happened during one of my classes. I was stunned).
Make oddly loud noises like groaning, humming, hot breathy exhalations, or overly thunderous Oms.
Laugh at someone in the class for falling.
Make a pass at someone in class, and try to get a date by inviting them to a "private chanting session at your place."
Openly talk about another yoga class taught at a different studio that is "so much nicer than this one."
Leave your snotty tissues or used band-aids on the floor after you leave class.
Get up in the middle of Savasana, loudly drop your aluminum water bottle on the floor, step on the hand of a relaxing yogi, and slam the door as you leave.
Tell me, what inappropriate or disruptive things have you witnessed in yoga classes?