What to Eat Before You Work Out
Pre-Workout Foods to Burn More Fat
Calories aside, certain foods have been proven to give you more bang for your buck — at the gym, that is. Foods with a low glycemic index, or GI, have been directly correlated with how many cals are burned in your gym session. In a recent study, women who ate a low-GI breakfast a couple hours prior to exercising burned twice as much fat as when they indulged in a high-GI breakfast. This is thought to have happened because low-GI foods maximize fat burn, since they don't create a spike in your blood sugar, as high-GI foods are known to do.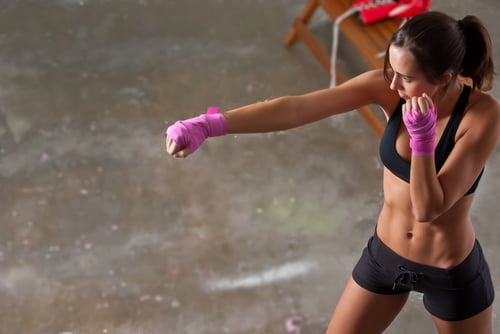 The lowest-GI foods to digest prior to a workout include whole grains, porridge, some cereals, soy, and linseed bread. Because it's important to always have a well-balanced meal, here's a list of the lowest-GI foods in every major food category:
Cereals: Oatmeal, muesli, all-bran, and porridge
Legumes: Lentils, chickpeas, pinto beans, and split peas
Vegetables: Carrots, eggplant, mushrooms, green beans, and broccoli
Fruits: Apples, cherries, plums, grapefruit, and peaches
Carbs: Wheat tortillas, pearled barley, linseed bread, and brown rice
Dairy: Yogurt, soy, chocolate, and dairy milk
Snack foods: Hummus, nuts, raisins, and corn chips
At moderate activity, a low glycemic diet can help you make the most of your workout session. Unless you are training at a triathlon level, high-GI foods aren't helpful for your endurance or goals to shed pounds. Try munching on these foods pre-exercise, and notice the difference in it can make on your weight control.