What to Expect at Adult Ballet Class
Class Act: Ballet For Beginners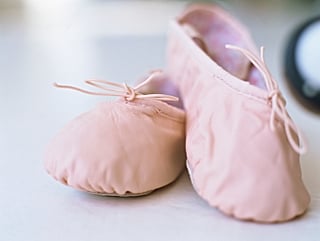 Stirred by Black Swan, Natalie Portman's dramatic body transformation, and my regular practice of the Bar Method, a ballet and dance based strength training and toning program, I recently ordered my first pair of Capezio shoes since childhood and signed up for ballet.
The class, which was offered at my gym, promised to help me "discover my inner ballerina" with classical ballet technique for beginners and intermediate students. While fit enough to keep up in most exercise classes and graceful enough to stay under the radar on the dance floor, a dancer I am not. To find out what happened when I took center stage, and what you can expect from a beginner ballet class, keep reading.
There were six other women (one was a serious and statuesque dancer in her 40s and the rest all newbies like me) in the class, which was taught by a petite ballerina wearing full ballet gear (the leotard, tights, leg warmers, and even hair in a neat bun). I was intimidated by the teacher's immediate diatribe about tardiness and her reminder that ballet is an art form — one she'd been working on "since she was four" — but concluded she was just doing her job and likely uninspired by beginner adult ballerinas. We started the class with a floor warm up and traditional stretches with added graceful arm positioning. As the music swelled, memories of childhood dance classes flooded back, the teacher opened up with kind words and encouragement, and I gave in to the experience.
After stretching, we moved to the barre, where we worked on basic feet and arm positions and did short repetitions of classic techniques — from simple pliés (my goodness 20 of those make lunges feel like a walk in the park) to the more complicated arabesque, where the body is supported by one leg with the other leg extended behind the body with the knee straight. By the end of class, the teacher put together a short sequence for us to perform together, including a grand jeté, which is a fancy horizontal jump. While I had trouble keeping up with the quick barre work, the quick sequence was a blast, and I had a brief but beautiful ballerina moment. We closed the class with our mini performance and some cool down stretches.
The 60 minutes didn't turn me into a dancer or inspire me to sign up for private ballet lessons, but it was a welcome expedition from spinning and the treadmill and a worthy exploration of one of the year's hottest workout trends. Plus, I felt muscles I rarely feel the next day, which is a twisted treat after a new workout. Have you tried an a ballet class lately? Share your opinion and experience below!