What to Expect From Prenatal Yoga Class
Class Act: Prenatal Yoga
The first thing I have to say about prenatal yoga is holy adorableness. I have never seen so many pregnant women in one room! It was amazing to see all those glowing faces and beautiful bellies. If you're pregnant, it doesn't matter if you've never taken yoga before in your life — you must take a prenatal yoga class. Not only will it offer you benefits such as stronger muscles, flexibility, a healthier heart and lungs, and relaxation techniques, but keeping up with it regularly can also prevent common woes such as lower back pain or leg cramps.
Another plus? You get to connect with other women going through exactly what you're going through. So you're sure to learn tips like how to deal with heartburn, where to buy fitness tops to fit your ever-expanding breasts, and which prenatal vitamins don't cause nausea.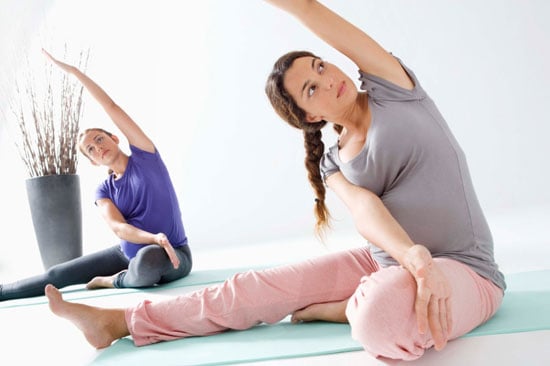 In order to find a prenatal yoga class near you, call local yoga studios or gyms, ask your OB, or talk to other pregnant women you know. Once you find a class, find out what you'll need to know before you go when you
.
When you take your first class:
Bring your own yoga mat if you have one. If you don't, the studio most likely will have one for you to borrow, as well as other props including bolsters, blocks, straps, chairs, yoga balls, and blankets.
Bring water. It's important to stay hydrated and cool when exercising.
Wear comfortable clothes that support and cover your body. You'll be moving in interesting positions, and don't want to be self-conscious about showing your undies if you're wearing loose shorts.
Use the bathroom when you need to. You'll find that someone gets up and leaves to use the ladies' room every few minutes, so you definitely won't be the only one.
Listen to your body and don't do anything that causes pain, tightness, dizziness, or shortness of breath. Stop what you're doing immediately and ask the instructor for a modification, or just sit on your mat, sip water, and wait for the next pose.
Avoid going deeply into poses as the relaxin in your body is causing your joints to loosen up. Going too far can cause you to pull a muscle or tweak a joint.
Don't be afraid to ask the instructor questions. Is it OK to lay on my back after 20 weeks? How can I use a block to modify Triangle pose? What poses will open my hips? Ask as many questions as you want in order to feel comfortable and confident. The other pregos in the room will appreciate the info as well.
The class will most likely be gentle and slow-paced, so you can concentrate on breathing, connecting with your baby, and learning how to relax — all good things to know when you're in labor.
You'll probably spend some time doing Kegel exercises to strengthen your pelvic floor muscles. Strengthening these will make it easier to release them while in labor, and will also tighten them up after birth to prevent incontinence.
The poses in a prenatal class will focus on opening your hips, stretching your lower back, chest, abs, and shoulders, and strengthening your thighs. If you were practicing yoga regularly before you conceived, it's safe to continue doing backbends and inversions, as long as they feel good to you.