What to Expect From a Vajra Yoga Class
Class Act: Vajra Yoga
The yoga studio where I teach just started offering Vajra yoga classes, so I decided to try something new and took a class last week. The only thing I knew before heading into the studio was that this was a more meditative kind of yoga. Since the class began at noon, it was small: only four other students. The small group made for a calm and peaceful environment, and the teacher had a single candle lit in the front of the room, which added to the quiet ambiance.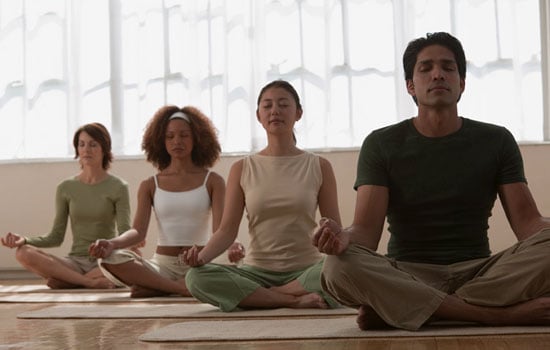 This 90-minute class began as I thought, seated in a comfortable position, as we were instructed to focus on our breath and quiet our minds. We only sat for about five minutes or so, which seemed like the perfect amount of time. To be honest, I have a hard time sitting and being still (it's something I need to work on), but this didn't seem too long at all. I actually enjoyed just experiencing the moment and following my breath.
To hear about the rest of the class
.
After the short meditation, we began with small movements to awaken and warm up the muscles. We did some Cat Cow back stretches on our hands and knees, and some Cobra to Child's Pose. Then we eased into opening our hips with Pigeon, and some standing poses like Warrior 3 and Wide-Legged Standing Forward Bend to open our hamstrings.
Although the poses were familiar, the way we did them was different than I am used to. There were no vinyasas, and we didn't flow from pose to pose to pose. Each asana was carried out on its own, and to be honest, it didn't work for my body. My muscles never really had the chance to warm up since I felt like my body was just being thrown into poses. That's just me though. I prefer fast-paced flowing styles of yoga such as Ashtanga, Vinyasa, and Jivamukti, where there's a lot more movement. Slower forms such as Kripalu and Iyengar always leave me feeling unsatisfied and antsy to move.
If you're new to yoga or prefer to move slowly, then Vajra yoga may be right up your alley, so see if a studio near you offers this type of yoga. As for me, I'll stick to my Vinyasa class most of the time and head to a Vajra class if my energy level is low or I need some quiet time to de-stress.
Is yoga one of your favorite things to talk about? Then check out the Yoga Stretch and Tell group.