What Is a Float Tank?
Float On: Reasons to Try a Sensory Deprivation Chamber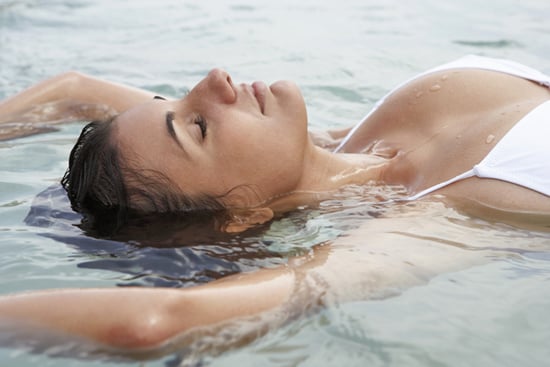 Last weekend, I went far outside my comfort zone and hung out in a float tank. Also referred to as sensory deprivation chamber, the floating experience is fairly straightforward: you hang out in a warm, dark soothing salt bath and are forced to relax without any outside influences. These aspects combined bring your brain to the theta state — the frequency it experiences just before going to sleep. If this is the first you're hearing about the concept of an isolation tank, then don't let the name scare you off! I found it to be an incredibly relaxing escape, and it offers a bounty of health benefits. Here are a few reasons I think you should take the plunge and try it out yourself.
It eases chronic pain: Floating is an incredible resource for people who suffer from arthritis or chronic pain from an old injury. Not only do they experience a sense of weightlessness that takes the pressure off their pain, but also, the bath itself helps reduce inflammation, improves nerve function, and helps with circulation — all things necessary to recover from serious pain.
It detoxifies your body: While eating foods high in magnesium and sulfate is a great start, these minerals can be difficult for our bodies to digest. However, soaking in an Epsom salt bath is believed by many in the holistic health community to be a natural way to amp up your magnesium and sulfate intake. The reason? These elements are more easily absorbed through the skin. Both are incredible detoxifying agents that assist your body's natural capacity to take care of itself.
It really alleviates stress: When you first sink into the bath, it's natural to have a little anxiety. But the sooner you loosen up and let the weightlessness take over, the sooner you'll be sinking into the theta state of your brain. By forcing yourself to really chill out and let go of your lists, your whole body experiences a deep sense of relaxation that lasts after you leave the tank. I was feeling completely blissed out the whole night and felt far less stressed when I woke up the next morning!
Have you ever tried a float tank? Would you be willing to take the plunge? Tell me below!